"Click here for Hindi Version"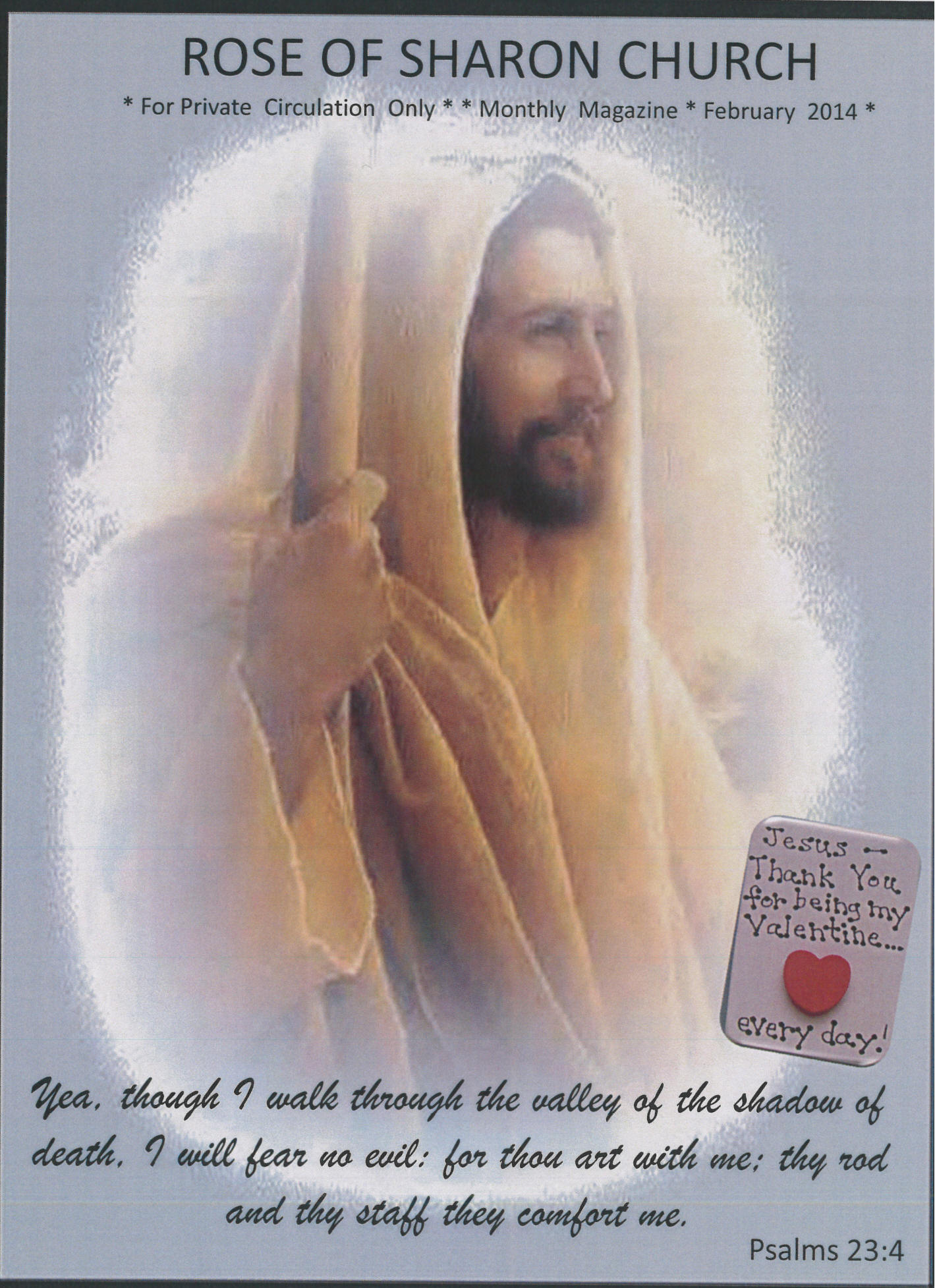 Editor's Note - Pastor Saroja
Testimonies
Strong Faith
Christmas @ Rose of Sharon Church
My Programmer!
The essence of Christmas
Birthdays
Rose of Sharon Old Age home
Back to Sunday Sunday in the New Year!
* * * * * * * * * * * * * * * * * * * * * * * * * * * * * * * * * * * * * * * * * * * * *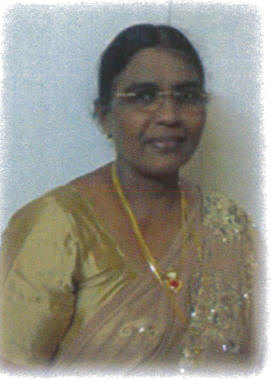 Editor's Note
Dearly beloved in Jesus Christ, I greet you all through this magazine.
Do you'll love the Lord with all your heart, mind and soul?
Look at Mary Magdalene's great love for the Lord; she was delivered of seven evil spirits and forgiven all her sins by Lord Jesus - that is why she loved the Lord so much.
<![if !vml]>
<![endif]>After Jesus was dead and buried, the third day she desired in her heart to see the Lord. So early in the morning she came to the grave side and was crying.
John 20:15 -Jesus saith unto her, Woman, why weepest thou? whomseekest thou?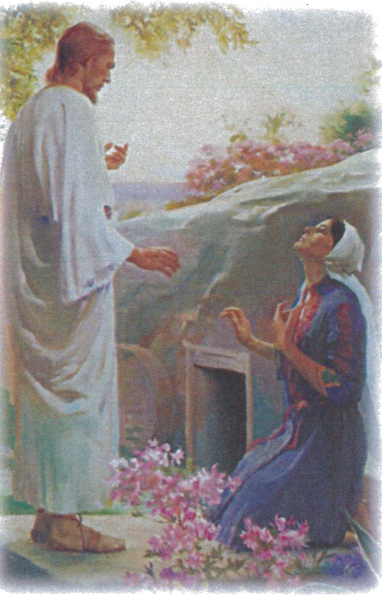 She, supposing him to be the gardener,saith unto him, Sir, if thou have borne him hence, tell me where thou hast laid him, and I will take him away.So because of Mary Magdalene's great love for Jesus, He appeared to her first.
Peter because of this same great love walked on the water. Water here signifies troubles, temptations and sufferings. So love the Lord and walk in holiness over all your problems and temptations. Never give place to fear. Do not fear the storm and the raging seas and be shaken.
2Timothy 1:7 -
For God hath not given us the spirit of fear; but of power, and of love, and of a sound mind.
What is the testimony of David?Psalms34:4-I sought the LORD, and he heard me, and delivered me from all my fears.The sea has power to drown a man, and unbelief can take a man to hell. But faith has power to lift a man up and make him walk on the waters and overcome all his troubles and temptation. Whatever your problems, keep your eyes upon the Lord in faith for He is the author and finisher of our faith.
<![if !vml]>
<![endif]>The apostle Paul says in2 Timothy1:12-For the which cause I also suffer these things: nevertheless I am not ashamed: for I know whom I have believed,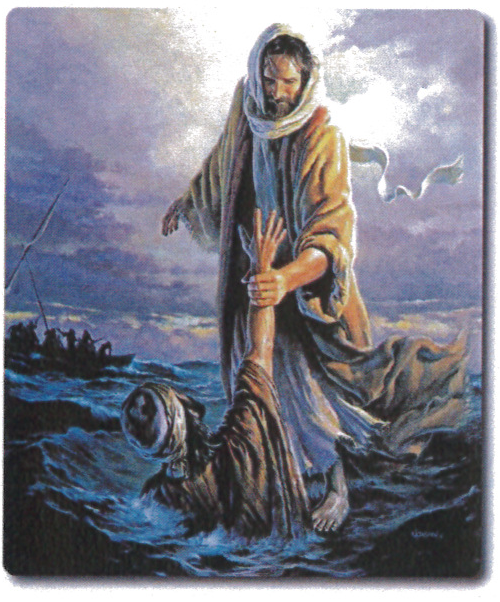 and am persuaded that he is able to keep that which I have committed unto him against that day.
Those who walk with the Lord should not look to their right side or left side. They should not listen to others.
We should walk according to God's Word. God's Word was "Come, walk". So Peter walked on the Word of God. God who gave the Word is true, because even if Heaven and Earth pass away His Word will never pass away; it is with this faith that Peter walked on the sea.
How does this faith come?Romans 10:17-So then faith cometh by hearing, and hearing by the word of God.By reading His holy Word, by hearing His messages and the living testimonies, this faith can come in you. For we walk by faith, not by sight.
Peter who walked on the sea by the Word of God was shaken by seeing the stormy sea for a moment. In the same way while warming himself in front of the fire in the courtyard of the high priest, Peter was shaken by the accusation of a lady.
When Peter was sinking he had a little prayer in his heart.Matthew 14:30-But when he saw the wind boisterous, he was afraid; and beginning to sink, he cried, saying, Lord, save me.
Even though Peter disbelieved, yet the Lord saved him and helped him to walk on the waters again and brought him out.What was the power behind the stormy sea that day?It was the power of evil.
Many times we see storms in our lives but we do not know the reasons behind the storms.
Job's house did not fall just like that, neither did his children die just like that.The storms which came in Job's life were because of the evil one.
Job's wife who did not understand all this, was bitter towards the Lord and counseled Job.Job 2:9-Then said his wife unto him, Dost thou still retain thine integrity? curse God, and die.
Jesus said inJohn 16:33-These things I have spoken unto you, that in me ye might have peace. In the world ye shall have tribulation: but be of good cheer; I have overcome the world.
You all should walk as victors over the evil spirits and demons.
Psalms 91:13 - Thou shalt tread upon the lion and adder: the young lion and the dragon shalt thou trample under feet.
<![if !vml]>
<![endif]>Luke 10:19 - Behold, I give unto you power to tread on serpents and scorpions, and over all the power of the enemy: and nothing shall by any means hurt you.
James 4:7 - Submit yourselves therefore to God. Resist the devil, and he will flee from you.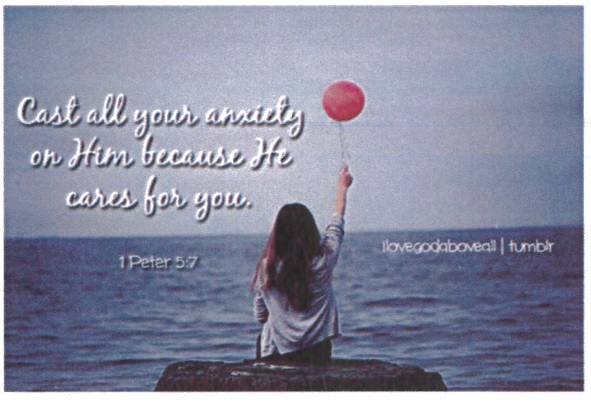 Cast your burdens onto the Lord, and He shall sustain you, He will never permit the righteous to be moved. 1Peter 5:7 Casting all your care upon him; for hecareth for you.
Beloved readers, sin shall not have dominion over you, for you are not under law but under grace.
So love the Lord with all your heart and mind and you will be able to overcome all your problems by faith.
Till we meet again through these pages next month. May God bless you.
Pastor Saroja M.
* * * * * * * * * * * * * * * * * * * * * * * * * * * * * * * * * * * * * * * * * * * * * * * *

Praise the Lord. I would like to thank our Lord for giving me the opportunity to testify His Almighty name. I was having a constipation problem for many days and after some days I started getting blood in my stools which caused me a lot of pain. The pain was so much that I was getting scared to go for motions because of the bleeding. I was unable to sit in office and this pain was continuous for 3 to 4 days. Then I went to the doctor for a checkup. She told me that I have a piles problem. On Saturday healing service I told this to Pastor Saroja. Pastor advised me to apply prayer oil and assured me of her prayers. After putting prayer oil and Pastor Saroja's prayers, within 2 days my bleeding stopped and my pain also disappeared and I was completely healed. I give all glory and thanks to our Lord Almighty for healing me from this problem and also thank Pastor Saroja for faithfully praying for me and my family whenever we have a need.
** Sis. Renita Jackson, Mulund (West)
I would like to glorify our God who has done a wonderful thing in my family. My son was an alcoholic for a long time due to which there was no peace in our family. There were also financial losses due to his drinking habits. I had requested Pastor Saroja to pray for him. I praise God that my son has not only given up drinks but he got baptized also. I thank God for this miracle and give special thanks to Pastor Saroja for her effective prayers. Thank you Jesus!
**Sis. Taraben Jhaler, Bhilad
Praise the Lord. Thank you Almighty God for your wonderful work. I was suffering from a blood clot in my brain. So I just rang up Pastor Saroja to pray for this issue. After that I started recovering fast. Now I am feeling well and am living a normal life. Thanks be to Lord Jesus that He heard the prayer of Pastor Saroja. May Lord bless Pastor always and fulfill her needs; thank you Lord and I glorify your Holy name.
** Sis. Rohini Bhatt, Mira Road
Praise God! I attend the Bangalore Prayer Meetings held by Pastor Saroja. I was without a job for many months and had asked Pastor to pray for me. There are things that happened, and things that we do not have control of. However, I have realized that through prayer and faith we can do everything through Christ who makes us strong. Difficult times are when we doubt or give up; assuming that we are alone but there is always someone to carry us through. I have accepted that there will be very difficult times for me ahead because the path that I have chosen is not easy to follow in this world. The path is narrow; the way ahead will be hard because I have accepted Christ as my model. When I say hard, it means I will not accept the ways of the world; I will not take bribes, will not make false promises and will not cheat others. It is easy to doubt God and wonder why bad things happen, but His grace, love and blessings will heal everything. I have been blessed by getting a job in a company which I like – it is tough but it is like a new beginning for me. Thank God and Pastor's prayers for making this happen.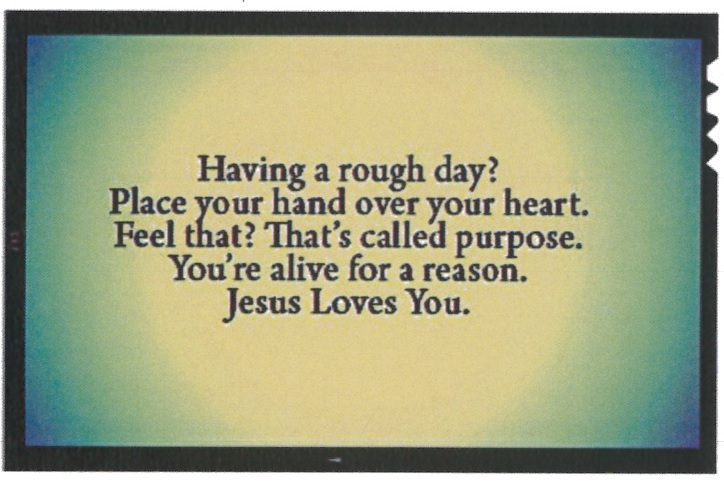 ** Bro. Ravindra Walters, Bangalore
I ask for forgiveness for giving this testimony late. 5 to 6 months ago my son visited our native place; our relative's daughter was suffering from some evil spirit problem. They had already visited many doctors, but she was never getting healed. When my son saw her, he told her parents that I go to church where people are healed from such problems. They then asked him to help them out but could not bring their daughter to church because she was eight months pregnant. So my son told them to give her prayer oil to drink. After drinking the prayer oil her behaviour improved and now she is free from the evil spirit. She even gave birth to a daughter who is healthy. Praise the Lord for a wonderful healing through the prayer oil.
My second testimony is about the place where I am working; one of my colleagues had a problem on his back. There was a blood clot and a small portion was getting swollen up. I advised him to put prayer oil on his back. Praise God the swelling and the blood clot have both disappeared. I thank my Lord for this healing He has done through the prayer oil and thank our Pastor for praying over the prayer oil.
** Sis. Bharti Mohite, Kalina
<![if !vml]>
<![endif]>I thank my Lord for giving me this opportunity to testify his wonderful works which he has done in my life. My mom, for years used to complain of pain in her chest, but she used to take medication and the pain would go away. Actually it was negligence on our part for not taking it seriously. In the month of October, when she took an x-ray, the report showed some damage, but it was not clear. We immediately consulted an orthopedic surgeon who advised us to do a CT scan. When we got the report, it clearly showed that on the left side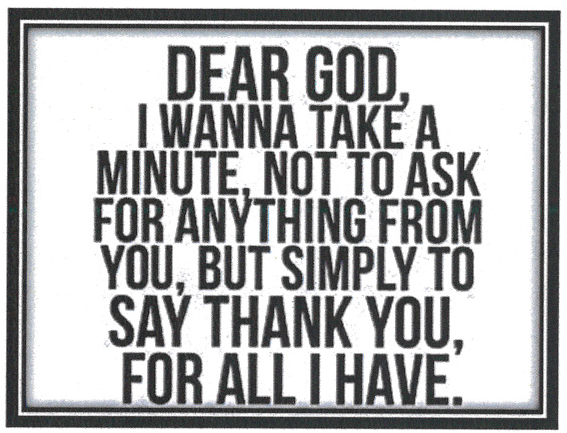 of her chest her 8th rib was completely damaged from front till her rear spinal cord; but fortunately was not affecting her respiratory system. It was serious & I was shocked! The doctor suspected it to be cancer. She had to undergo another CT scan in which some part of her rib bones were removed to be tested. When the reports same, the doctor himself said "Thank God, it's not cancer". But as the ribs were seriously damaged she had to undergo a surgery. Age was not on her side, she has already passed 50 years and to do a chest surgery was not going to be easy. I told this to our Pastor; she motivated me and told me she would pray for the same. My mom underwent a rib surgery on 21st November and everything went fine. She was under pain but to our surprise she recovered fast. I thank my Lord because it was only through His grace that such a big problem was solved in a very normal way. It proves again that no problem is too big for our Lord. I also give thanks to our Pastor for motivating and praying for my family.
** Bro. Ravi Singh, Kalina
Praise the Lord. I had a terrible pain on the left side of my neck. It was so terrible that I was unable to sleep. I took the prayer oil and applied it all over the pain. When I woke in the morning the pain had disappeared. I thank and praise God for this healing and also thank Pastor Saroja for praying over the oil which healed me and always praying for me and my family.
Sis. Tara Khushwa, Jogeshwari




* * * * * * * * * * * * * * * * * * * * * * * * * * * * * * * * * * * * * * * * * * * * *
Strong Faith
It was a broad river. A couple was peacefully going across the river. The husband was rowing the boat. Suddenly out of nowhere, waves started rocking the boat. The current got stronger by the second. It was becoming almost impossible to control the boat. Help from another boat was out of question as they knew very well that they were all alone. The wife was completely terrified. Initially, there was only panic on her face but as the rocking increased, she began weeping uncontrollably. To her utter surprise, her husband's face was peaceful in spite of the danger around. She panicked, but her husband remained in control, totally calm. With great effort, the husband somehow controlled the boat and they reached the bank, safe.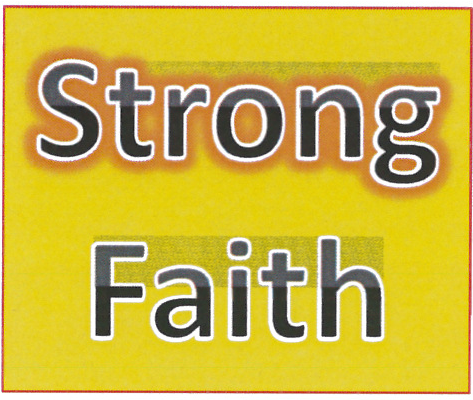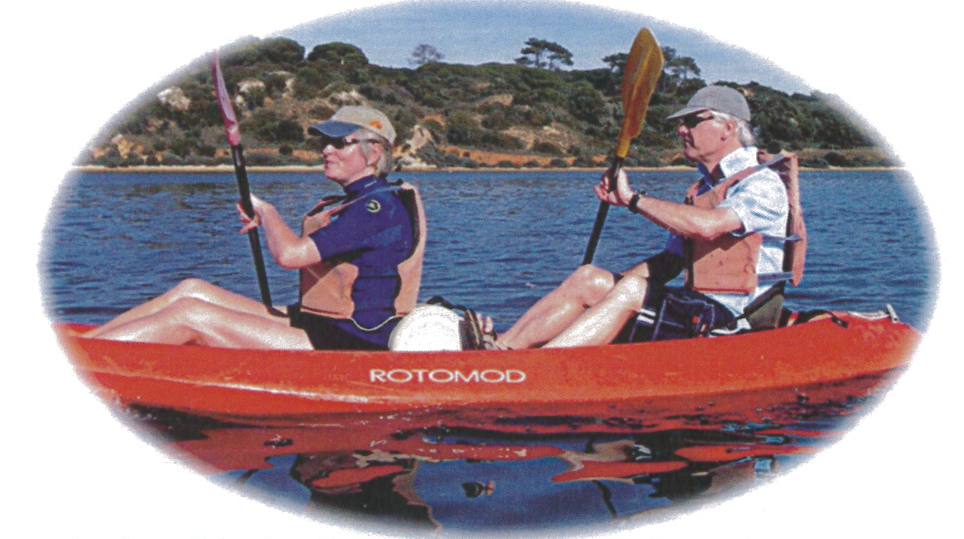 Safe at last, the wife remarked to her husband, "I saw your face there; it was as if nothing had happened at all. Of course you were trying hard to save us from drowning, but you were completely at ease. How was that possible? Why did you not panic? The husband smiled pleasantly and drew a small knife from his pocket. He pointed it to her throat and asked, "Are you scared now?" The wife burst out laughing and said, "We have lived together for so many years. We have shared more than our lives……I know you better than our lives….I know you better than any person in this world. I believe you. How could you point a knife and expect me to panic?"
"Exactly!" said the husband. "I have long trusted God. I know I can trust Him. Not for a nano second did I have a thought that the waters would topple the boat. I knew He wouldn't do that to us. I had no reason to panic, I simply believed Him!"


* * * * * * * * * * * * * * * * * * * * * * * * * * * * * * * * * * * * * * * * * * * * *
Christmas @ Rose of Sharon Church
This year's Christmas Festivities were celebrated once again at one of the halls of St. Mary's High School, Kalina on the evening of 23rd Dec 2013.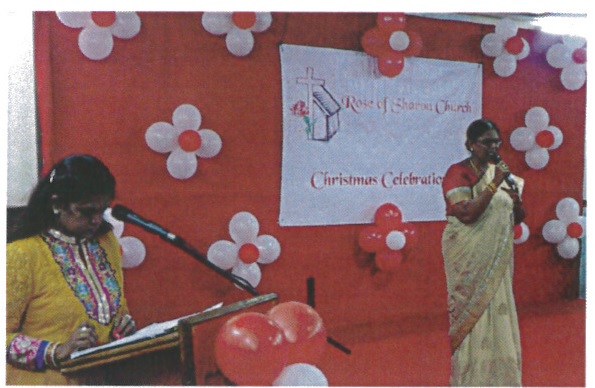 The program was inaugurated by Pastor Saroja with a prayer and welcome address to all members who had come from far and wide i.e. Kalina, Mira Road, Bhilad Gujarat, Rajasthan, and Bangalore. A 'Happy Christmas song' was performed by Sis. Padma during the inauguration phase.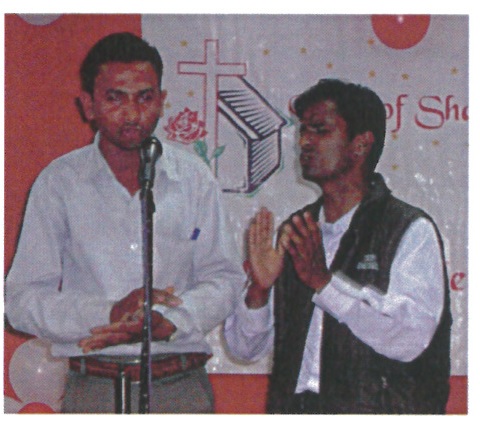 Beginning with lively dance and songs by the Sunday School Children of Kalina and Bhilad, the program followed with a prayer and songs by Pastor Walsingh Khihuri and Pastor Laxmanlal, both from Rajasthan.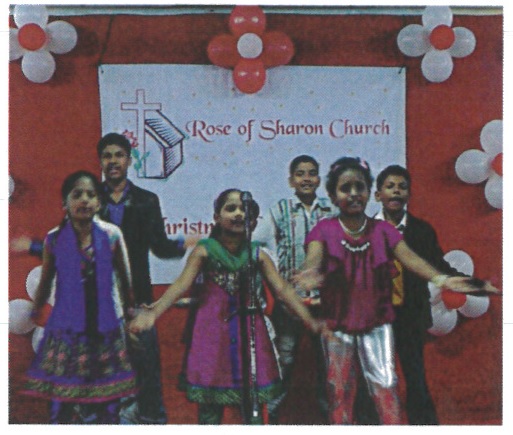 A skit performed by the Women's fellowship on Jesus' life followed showing a few of the miracles our Lord Jesus performed while on earth.
This was followed by a skit by the Married Couples on Elisha and his servant Gehazi and a few of the miracles Elisha performed. They also presented a skit which showed that one believer in the family can bring the whole family to Christ by being a good testimony.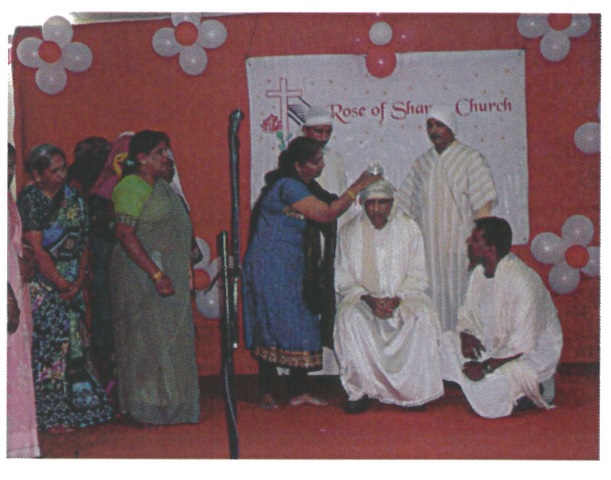 The youth performed a lovely dance number followed by the ladies who performed another dance number.
Thereafter the youth performed a skit showing modern life and how in today's world we are so caught up with the lusts of this world. The play went on to show that when trouble arises and we pray to God in faith, He hears our cry and delivers us.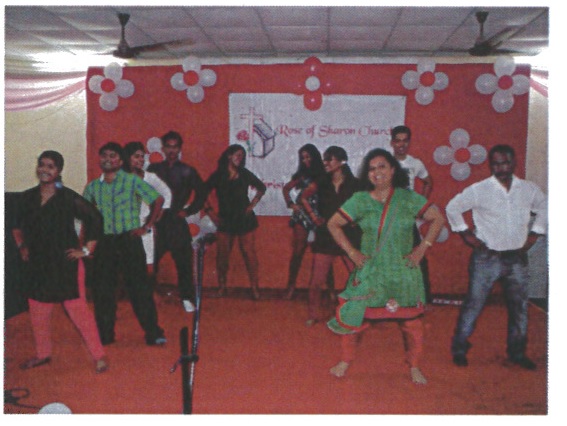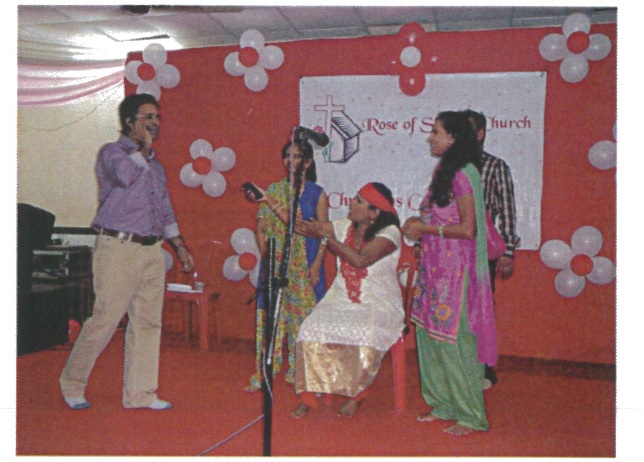 This was followed by a Hindi song performed beautifully by the Men's Group. The youth then came back to perform a dance and a skit, this time depicting how one pious individual can pray and change the lives of their family.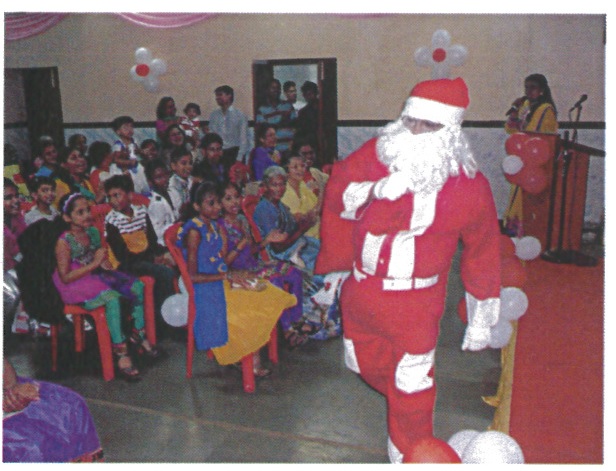 The birth of Jesus was enacted by the youth in closing and thereafter the moment that all children were anxiously waiting for… the arrival of Santa Claus with gifts for all.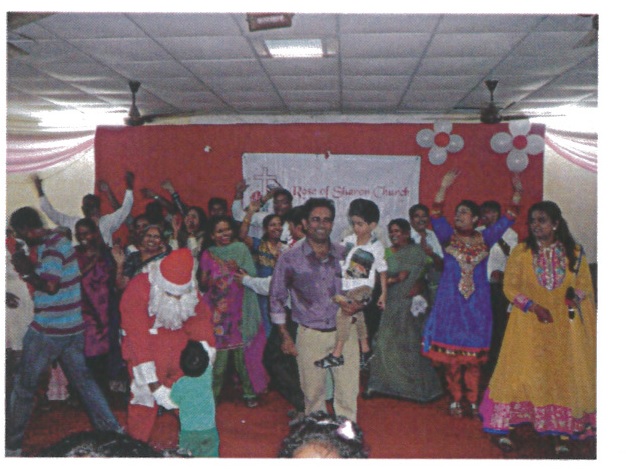 A time for dancing and celebration for all groups followed while the dinner snack was opened and all refreshed themselves with the sweet Savaiyan bhaath prepared for the occasion by Pastor Saroja.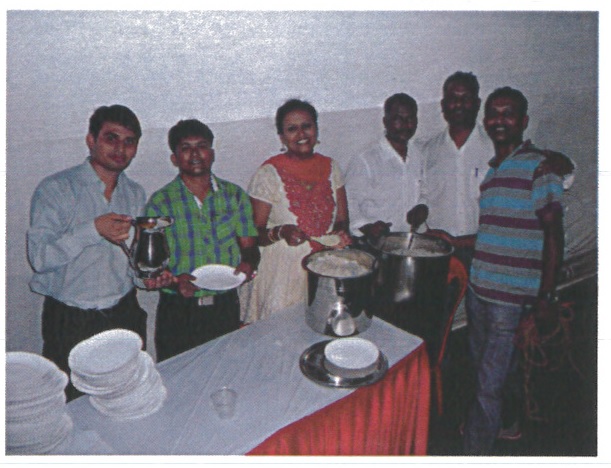 * * * * * * * * * * * * * * * * * * * * * * * * * * * * * * * * * * * * * * * * * * * * *

My Programmer
The Lord is my Programmer, I shall not crash
He installed His software on the hard disk of my heart
All of His commands are user-friendly
His directory guides me to the right choices
For His names sake
Even though I scroll through the problems of life,
I will fear no bugs, for He is my backup
His password protects me
He prepares a menu before me in the presence of my enemies
His help is only a keystroke away
Surely goodness and mercy will follow me all the days of my life
And my file will be merged with His
and saved forever.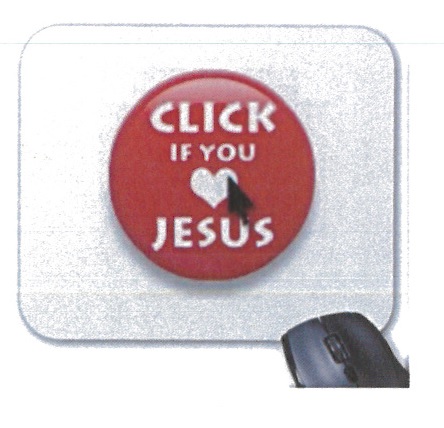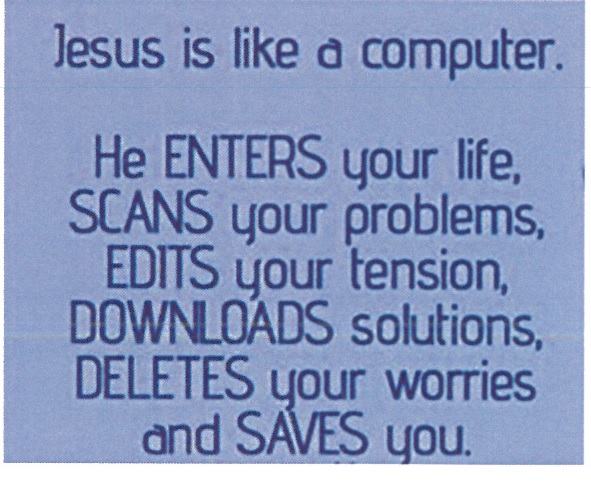 * * * * * * * * * * * * * * * * * * * * * * * * * * * * * * * * * * * * * * * * * * * * *
The essence of Christmas
What is the essence of Christmas? What is the hope of Christmas? Christmas is a 'Happy Day' for all of us. Jesus Christ our Lord was born in the form of a human being like you and me; that is why it is a 'Happy Day' for us all. 1Timothy 3:16 says "And without controversy great is the mystery of godliness: God was manifested in the flesh, Justified in the Spirit, Seen by angels, Preached among the Gentiles, Believed on in the world, Received up in glory." This is the secret of our happiness for Christmas. It is very important for us to understand the happiness of Christmas. Yes, the reason is that Jesus Christ was born in a physical form, for our sakes. God was manifested in flesh, justified in the Spirit, seen by angels, preached among the Gentiles, believed on in the world and was received up in glory. Thus we the Christians in this world can be proud and rejoice in this very fact that the God who made heaven and earth, who lives in the heavens above, the King of Kings, came down into this world for our sakes to give us 'Happiness' in this world. Before He was born into this world, no man could see His glory; He was sent down to the earth that we may experience the happiness. But he was sent into the world so that He could preach the Kingdom of God to us and we could be saved. In different ways Jesus has given us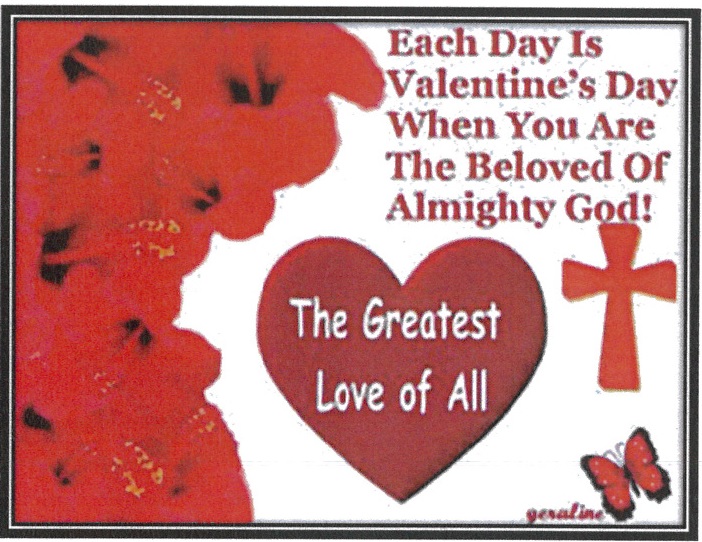 happiness in the world. Mathew 1:21, 23 "And she will bring forth a Son, and you shall call His name Jesus, for He will save His people from their sins. Behold, the virgin shall be with child, and bear a Son, and they shall call His name Immanuel." Immanuel is translated as "God with us." To give us deliverance from our sins, our God Immanuel came down to this earth in the form of man so that He could stay close to us.
Prophet Isaiah says in Isaiah 9:6 "For unto us a Child is born, Unto us a Son is given; And the government will be upon His shoulder. And His name will be called Wonderful, Counselor, Mighty God, Everlasting Father, Prince of Peace". Much before Jesus Christ was born into this world, Prophet Isaiah had prophesied about Jesus Christ; that He would be born for our sakes - Christ meaning 'born of the Spirit', Jesus meaning 'deliver us from our sins', Emmanuel meaning 'God with us'. Our God is so good, mighty and supreme. He who lived in the heavenly kingdom was sent into this world for you and me. Let us see how Jesus Christ lived in our midst in this world. John the Baptist says in John 1:14 "And the Word became flesh and dwelt among us, and we beheld His glory, the glory as of the only begotten of the Father, full of grace and truth". We must remember that God was manifested in the flesh, justified in the Spirit, seen by angels, preached among the Gentiles, believed on in the world and was received up in glory. But He continues to live with us in this world through the 'Word'. Lord Jesus Christ himself is the living Word - when we know this truth we will be delivered of all our sins. That is why the evil one tries to rob us of the 'Word'. Jesus Christ today speaks to us through His Word; He came into this world to show us the glory of His Father God. Luke 1:78-79 "Through the tender mercy of our God, with which the Dayspring from on high has visited us; To give light to those who sit in darkness and the shadow of death, To guide our feet into the way of peace." Thus those who accept this Word and live according to the Word, accept the Heavenly Father God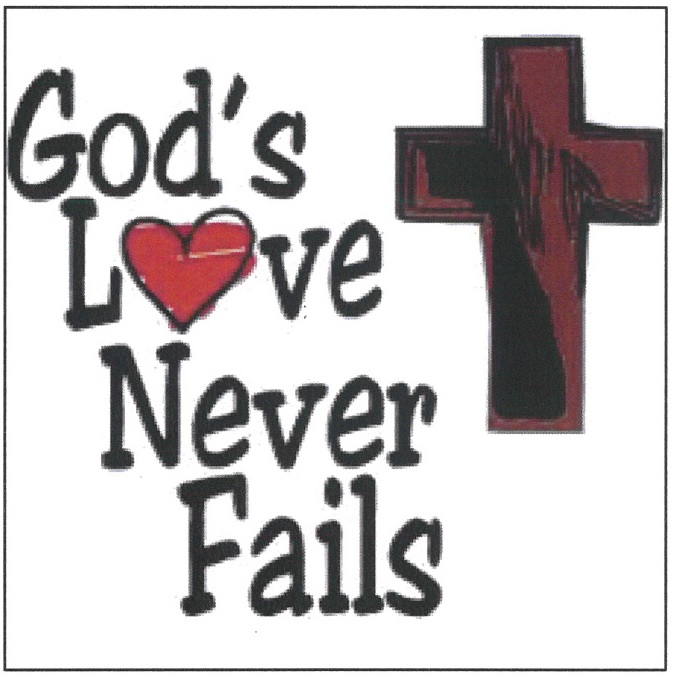 . As we celebrate Christmas today, we must accept Jesus Christ and also the Word. When we desire to know Jesus Christ, in turn we desire to know our Father God. Hence, together we will enjoy the happiness of heaven. Through Jesus Christ we receive the light of the world; when we walk together with God and be obedient to His Word, we give Jesus Christ a prominent place in our lives. When we love Jesus Christ and give him an important place, in turn we give our Father God the first place in our life. The home which welcomes Jesus Christ and gives Him the first place in their lives, that home becomes a dwelling place of God and becomes heaven-like. When we accept the light of Heaven into our homes, all darkness is gone and our lives are lit up by the Light of God. This is the reason for God to dwell in our homes.
Let us read again Luke 1:78-79 "Through the tender mercy of our God, With which the Dayspring from on high has visited us; To give light to those who sit in darkness and the shadow of death, To guide our feet into the way of peace." Thus, when we accept Jesus Christ we accept the Light that has come down from the heavenly Kingdom. We have seen the meaning of the names Jesus, Christ and Emmanuel by Prophet Isaiah; but Jesus the 'light of the world' when He shines into our homes, all darkness flees and there will be no spiritual death in that home. We wonder sometimes how we can be perfect; how we can love God and be obedient to His Word, walking with Him diligently? Many of us cannot be obedient to His word and keep His commandments. Hence, how can we follow and be obedient to what God speaks to us? Let us see Enoch's life in the Holy Scriptures; he was like you and me - a family man with a family, children and relatives. But he walked closely with the Lord God. He loved the Lord more than any other in his life. God spoke to Enoch face to face. Enoch feared the Lord. Thus he was blessed. We find it difficult to give God the first place in our life; for us it is always our family, friends and society that gets priority. We do not keep God's commandment nor do we walk according to His laws. This takes us from darkness into deep darkness because we embrace the world and its wrong doings. Our God is the heavenly Light who came down into this world to take away darkness and shine His light upon us and fill us with brightness and happiness. But why is there still darkness in our lives? It is because we have not accepted this Light into our lives, unlike Enoch, who was diligent in faith and loved the Lord and walked closely with God. Genesis 5:22 "After he begot Methuselah, Enoch walked with God three hundred years, and had sons and daughters". After his firstborn, Enoch knew God and He gave God the first place in His life, thereafter his family increased and he continued to walk with the Lord for 300 years. Is anything hard for the Lord? Nothing is hard for the Lord. Thus in the book of faith, Enoch's name has the first mention. We should never enjoy Christmas in the worldly way, rather we should enjoy Christmas with the true spirit of Jesus Christ. The true spirit of Christmas is explained in I Timothy 3:16 "And without controversy great is the mystery of godliness: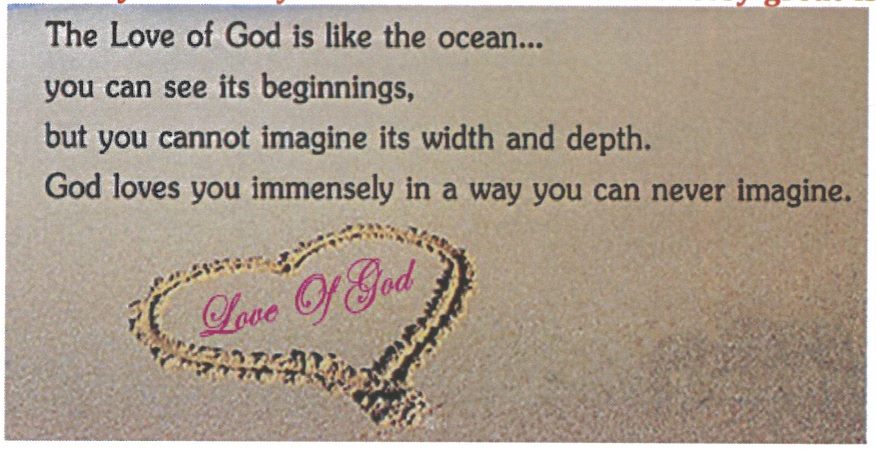 God was manifested in the flesh, Justified in the Spirit, Seen by angels, Preached among the Gentiles, Believed on in the world, Received up in glory." Here the Lord God, shows us His great love for us, He was manifested in the flesh, justified in the Spirit, seen by angels, preached among the Gentiles, believed on in the world and was received up in glory. The true meaning of Christmas is "Born by the spirit, shown to us by the Angels, preached salvation to the perishing and finally lifted up in glory." Jesus never looked at anyone's face and gave His judgement; rather He looked within their hearts. Thus He was righteous in Spirit. He was always led by the Spirit to proclaim His judgment upon men. We too must never take any man at face value; we too must make our judgments righteously. Prophet Samuel was in search of a new King for Israel, so he went throughout Israel in search for a new King by His own wisdom. He continued to look for wise, strapping and handsome men to be the next successor of Israel. But God had already instituted David to be the next King and He showed Samuel that He had already chosen David to be the future King of Israel.
2 Chronicle 19:5-7"Then he set judges in the land throughout all the fortified cities of Judah, city by city, and said to the judges, 'Take heed to what you are doing, for you do not judge for man but for the Lord, who is with you in the judgment. Now therefore, let the fear of the Lord be upon you; take care and do it, for there is no iniquity with the Lord our God, no partiality, nor taking of bribes." Thus the Lord God tells us never be partial in our judgment. We must always be obedient to Lord's Word. In this church, we have to be diligent and obey God's Word righteously. Those who accept the Word of God will be blessed and those who do not accept the Word, for them the doors of this church will always be closed. What is the true meaning of Christmas? Our Jesus Christ was born as a human being on this earth, God was manifested in flesh, justified in the Spirit, seen by angels, preached among the Gentiles, believed on in the world and was received up in glory. This is the true meaning of Christmas; this should be etched in our hearts forever. We may not have known the true meaning of Christianity before, but today God has revealed to us the truth and we must consider ourselves privileged children of God who are given the opportunity to hear the Truth of the Word and be saved in this world.
Let us read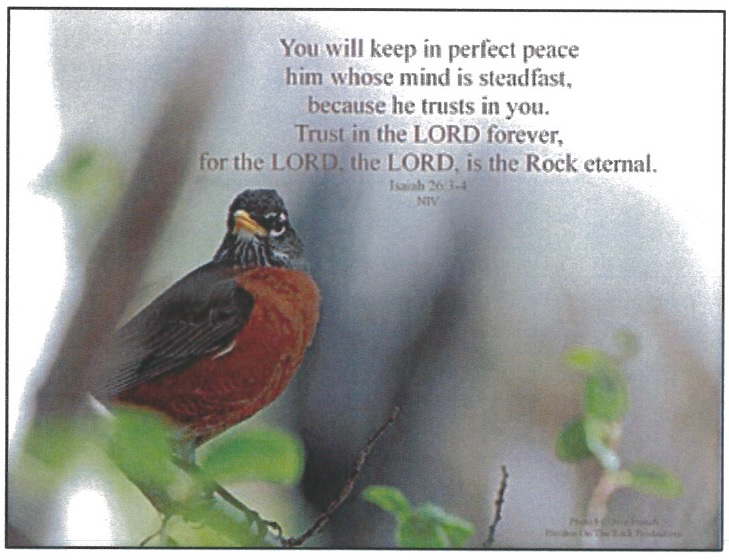 Hebrews 13:5 "Let your conduct be without covetousness; be content with such things as you have. For He Himself has said, I will never leave you nor forsake you." The promise of God for us is "I will never leave you nor forsake you", then why should we love the world first and forsake God? When God loves us, all darkness vanishes from our lives. Money is the root of all evil, today it is with us and tomorrow it will be with others. In the Holy Scriptures we know the story of the widow, who came searching for dry sticks in the jungle, so that she could bake bread for her son and herself, which they both would eat and then die, because that was all that was left in their life. But here we see how the Lord God tests her through His Prophet Elijah who tells the widow "first bake a bread and feed me". Similarly for the second promise to be fulfilled in our lives, we must completely adhere to the first command of God in Hebrews 13:5 "Let your conduct be without covetousness; be content with such things as you have. For He Himself has said, I will never leave you nor forsake you." The widow obeyed the Prophet and baked him bread first and fed the servant of God. Wonder what she must have told her son… "Let us both drink water and retire to bed, but we must be obedient to the servant of God, let us feed him first". God saw this obedience and blessed the widow's family who lacked for nothing thereafter. God desires the same obedience from us; He speaks to us every day through the Word. Our motto must be that we must bow down to His word and accept it totally, only then we will receive His immense blessings in our life. The waters of living water will flow from the throne of God into every home who believes in Him and His Word. Mathew 24:40-41 "Then two men will be in the field: one will be taken and the other left. Two women will be grinding at the mill: one will be taken and the other left." Our God is not a partial God; whoever follows God diligently, His promise for them is that He will never forsake Him. God who has told the judges, priests, evangelists, preachers not to be partial, will He Himself be partial? Never! Then what is the reason for God to take one person and leave the other person? It is because we do not obey the first promise, thus the second promise cannot be fulfilled in our lives. Let your conduct be without covetousness; be content with such things as you have. For He Himself has said, I will never leave you nor forsake you." Our God is an unchanging God; He also does not turn away from His promise given to us. He is not a man, to lie or change His words.
Numbers 23:20 says "Behold, I have received a command to bless; He has blessed, and I cannot reverse it". God has already blessed us; no one can change the blessings that God has given us. Our God's promise is that "I will never leave you nor forsake you". Will our God go back on His word or will He turn away from the promise He has given us? What is the reason then, if two are together one will be taken and the other will be left back? It is because many follow the second promise forsaking the first and many forsake the first promise and hope the second promise to be fulfilled in their lives. Thus, God will take away one and leave the other. He is the same unchanging God. It is important for us to know the true meaning of Christmas. Jesus Christ has come into this world to stay with us forever; even today He speaks to us through His Word. Genesis 5:24 "And Enoch walked with God; and he was not, for God took him". We may not believe that when Jesus says "Where there are two - one will be taken away and the other left back". But in the scriptures we have read that it has happened before. Enoch walked with God everyday; He talked to him face to face, Enoch feared God. And yes, he was carried away by God. What we read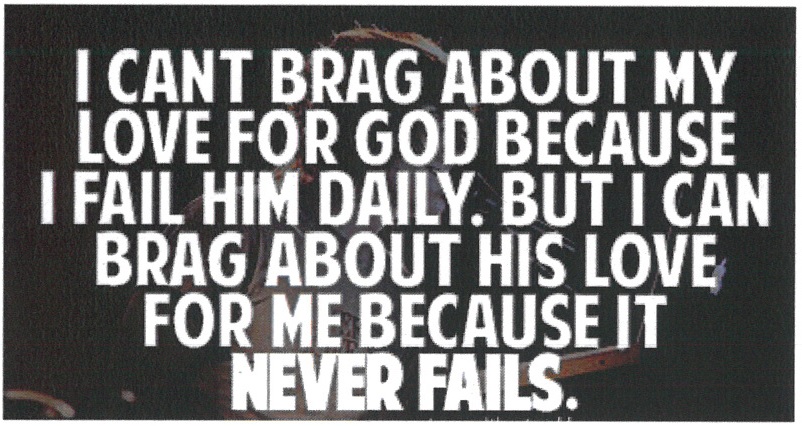 in Mathew 24:40-41 is true; in the end times the Lord God will take away His righteous ones in a similar way. That is why Lord God is with us today, showing His power, strength & might amongst us. He shows us His love and thus when He corrects us, we must change and accept the truth and separate ourselves from the sins of this world. Only then we can be saved. Hebrew 11:5 says "By faith Enoch was taken away so that he did not see death, and was not found, because God had taken him" For before he was taken he had this testimony, that he pleased God. When Enoch was in this world itself, people knew he was perfect with God and feared God. It was not after he was lifted up by God that people realized this truth. Thus, we too must love God, have faith and believe in Him, walk in His Spirit of righteousness and always do the will of God. We must mould our lives according to the will of God and bow down our knees before Him. Our troubles, trials and tribulations will be only that much as we can bear in this world. He knows our limitations. It is our duty to stand for the Lord God as much as we can. The more we try to be diligent to the Word, obey His commandments, walk in His way of truth; God will help us more to get closer to Him. When we take one step towards Him, He will take ten steps towards us. Our God has already promised us that "He will never leave us nor forsake us". He will always be there for us, He will strengthen us when we are weak, and He will lift us up when we fall. He will be our very help in the time of our troubles.
Let us read James 4:8 "Draw near to God and He will draw near to you. Cleanse your hands, you sinners; and purify your hearts, you double-minded". We must always try to get close to God and He will draw closer to us. But if we try to go away from Him, still our God has patience and He will wait for us for to be fruitful for Him. He will expect that we will give him fruit this year or the next, or even the year after that. He will never give up on us easily. He shows us His grace; He intercedes with God the Father for us and asks for some more time to work in our lives. Jesus asks for time from His Father - He says "I will dig my people's heart more and more with the Word and ensure that they are fruitful for the Kingdom of God". If my people do not relent from their sinful ways and hear the Word and pay head to My commandments, then I will pluck them and destroy them into the fire. What is the use of such a life? It is a futile life when we run away from the Lord. We must remember "He will draw closer to those who come closer to him". James 4:8 "Draw near to God and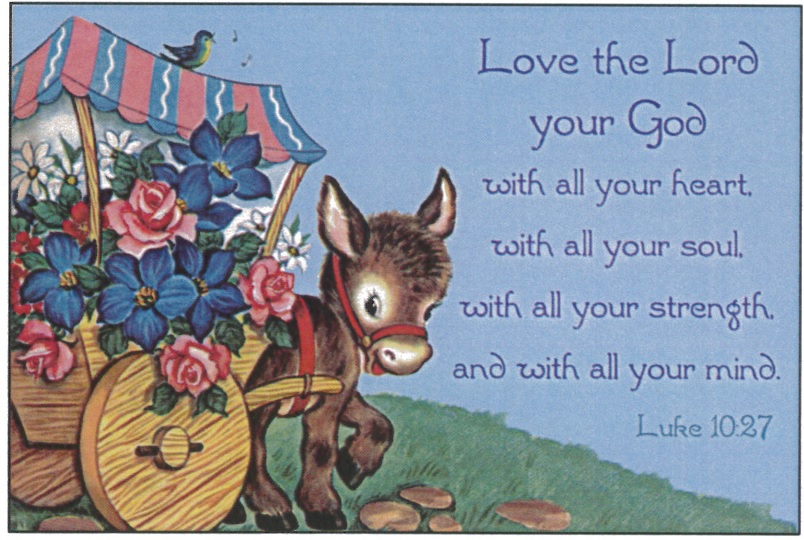 He will draw near to you. Cleanse your hands, you sinners; and purify your hearts, you double-minded" Jesus speaks in a parable in Luke 15:20 "And he arose and came to his father. But when he was still a great way off, his father saw him and had compassion, and ran and fell on his neck and kissed him." The son only thought of drawing closer to his father while the father saw him and ran towards him to embrace him. Similarly, James also says "Draw near to God and He will draw near to you". Today, the same Word is preached here, the more closer we try to get with God the more closer He will draw close to us. 2 Chronicles 15:2 says "And he went out to meet Asa, and said to him: "Hear me, Asa, and all Judah and Benjamin. The Lord is with you while you are with Him. If you seek Him, He will be found by you; but if you forsake Him, He will forsake you". We must always have the desire within us to come closer to God. The closer we come, the more close He will draw to us. Our God can do everything for us, nothing is difficult for Him. But, foolish are the ones who put their faith in man. The word says "Seek ye first the kingdom of God, then everything will be added unto you".
God's promise for us is the same today, Revelation 3:20 "Behold, I stand at the door and knock. If anyone hears My voice and opens the door, I will come in to him and dine with him, and he with Me". God who came into this world in a physical form for our sakes, He who promised that He will never leave us nor forsake us, speaks to us even today "Behold, I stand at the door and knock. If anyone hears My voice and opens the door, I will come in to him and dine with him, and he with Me". When we are drowned in this world, we will never be able to hear God's knock. Thus if we have ears, let us hear what the Spirit says to the churches. Remember, He is not a partial God. When we have money with us the world is with us, but when our money is over the world will forsake us. But our God is a Gentleman; He will never force himself upon us. He will wait outside and knock. Only if we open the door and let Him in, will He come in. He is our God who will set a table in front of our enemies for us. Our homes will thus lack for nothing; His blessings will overflow in our lives.
This Christmas, we have to open the doors for Jesus Christ to enter in. He is waiting and knocking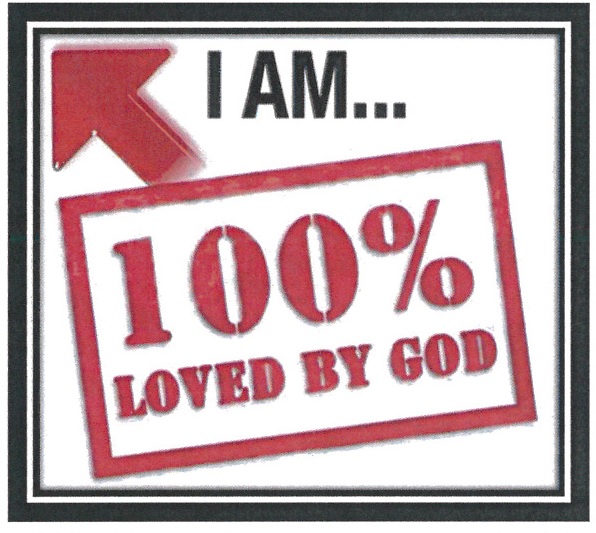 at our door today, the lock is from within, and we have to open our doors to let Him enter in. David's experience says in Psalm 139:17-18 "How precious also are Your thoughts to me, O God! How great is the sum of them! If I should count them, they would be more in number than the sand; When I awake, I am still with You". In our lives too we must experience this as David did, we must count our blessings one by one, as they are innumerable in our lives. God speaks to us through His word, even today. His love is manifested through His word alone. We must take every correction our Lord God gives us. We must never hide our sins; rather we are blessed when we get correction in our lives. We are only dust before Him. God purifies us constantly through His word and fire. God's judgment never comes upon us in the same measure of our sins; if it did we would never be able to stand before our flaming God. We must confess our sins and we will immediately see God's grace upon us. God continues to be our refiner.
John 14:21, 23 "He who has My commandments and keeps them, it is he who loves Me. And he who loves Me will be loved by My Father, and I will love him and manifest Myself to him. Jesus answered and said to him, "If anyone loves Me, he will keep My word; and My Father will love him, and We will come to him and make Our home with him." When we read and accept the word of God, keep His commandments and love Him, He will manifest Himself in our lives and we will feel the presence of both Jesus Christ as well as the Father God in our lives. This is the true meaning of 'Christmas in our life'. When we enjoy the presence of both the Father God and His son Jesus Christ, our lives will be BLESSED!
May this message be a blessing to all readers! Praise the Lord!
Pastor Saroja M
* * * * * * * * * * * * * * * * * * * * * * * * * * * * * * * * * * * * * * * * * * * * *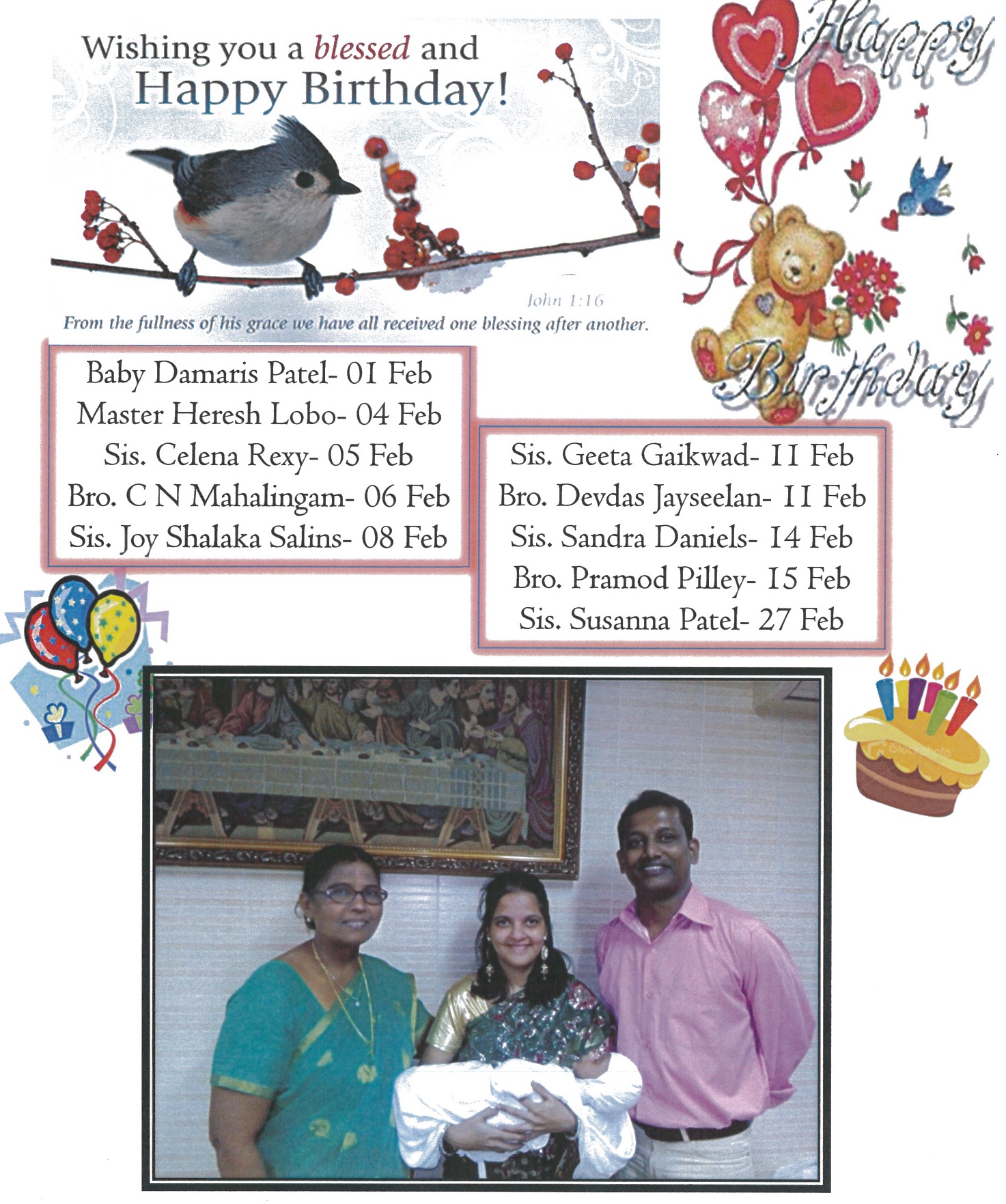 "PREM" son of Mayura and Austin Amanna was dedicated at the Rose of Sharon Church, Kalina on 12 Jan 2014 by Pastor Saroja M.

* * * * * * * * * * * * * * * * * * * * * * * * * * * * * * * * * * * * * * * * * * * * *
Rose of Sharon Old Age home
Greetings once again to all our dear readers in the most Holy and Matchless name of our Lord and Saviour Jesus of Nazareth.
Welcome back, it's a great joy to bring to our dear readers the first article of the year. In this month's article I would like to testify about the Lord's marvelous work in the life of our dear Aunty Meena Noronha.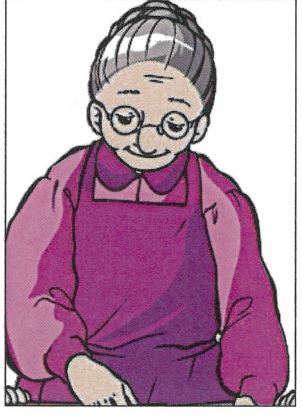 Aunty Meena moved into the Rose of Sharon old age home almost a year ago in March 2013. When she came to the home, she was a diabetic patient under medication for the same. In those days, since she had high blood sugar levels, she was taking one full tablet to keep her diabetes in check. But by the grace of God a few months later, as we continued monitoring her blood sugar, we realized that her sugar was continuously reducing. So we cut down her tablet intake to half a tablet and that too for every alternate day.
In the month of December we completely stopped her diabetic tablet thinking that our dear Lord alone can heal Aunty Meena from diabetes. In the past, our Lord Jesus had done a similar thing in the life of granny Merlyn Braganza whose diabetic tablets we had stopped some 3 years ago. Granny Merlyn, by the grace of God is hale and healthy and is enjoying a diabetic free life after coming to the Rose of Sharon old age home.
We believed that our Lord Jesus has the power to heal Aunty Meena too. With this belief we stopped her medicines in December 2013 and after a month had passed we monitored her blood sugar as per our routine checkup. Our joy knew no bounds when we realized that Aunty Meena's blood sugar findings were completely normal despite having stopped her medicines completely. Now she is under no medication for diabetes and we believe that our dear Lord Jesus will continue to give this aunty good health and a diabetic free life at the Rose of Sharon old age home. We give all glory to Lord Jesus for His healing touch in this Aunty's life.
Thank You Jesus, Praise The Lord…
Bro. Moses George
* * * * * * * * * * * * * * * * * * * * * * * * * * * * * * * * * * * * * * * * * * * * *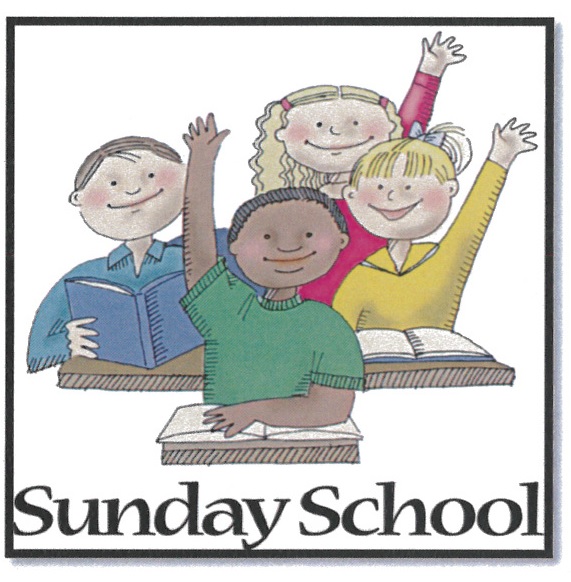 Back to Sunday Sunday in the New
Year!
After the enjoyable Christmas holidays, our little children are back with great joy and zest for another year of learning at the Rose of Sharon Sunday school.
Another wonderful year of hearing the Word of God … a year of living the true Christian life, of walking with Jesus everyday and of shining as little lights in the world... another great year in store for our dear Sunday school children!
Sunday school in the month of January started with songs of praise and testimonies. The children had their tests at school - so most of their testimonies were all about God's wonderful grace during their unit tests.
This month was about the teachings from the Old Testament… the children were so curious and full of questions about the Old Testament. They were most fascinated with the historical facts from the land of Israel.
The children started with the book of Judges. And all of the first quarter of the year will be focused in teaching the children all the Christian values shared in this book of the Bible.
The children also enjoyed one Sunday of general class with action songs and games. They heard with rapt attention the story of Samson and learnt about the importance of obedience to the word of God and the grace bestowed upon one's sincere repentance.
Do lift up our dear children in your daily prayers that they might have a truly blessed year ahead.
Praise the Lord!!!
* * * * * * * * * * * * * * * * * * * * * * * * * * * * * * * * * * * * * * * * * * * * *



* * * * * * * * * * * * * * * * * * * * * * * * * * * * * * * * * * * * * * * * * * * * *



* * * * * * * * * * * * * * * * * * * * * * * * * * * * * * * * * * * * * * * * * * * * *