"Click here for Hindi Version"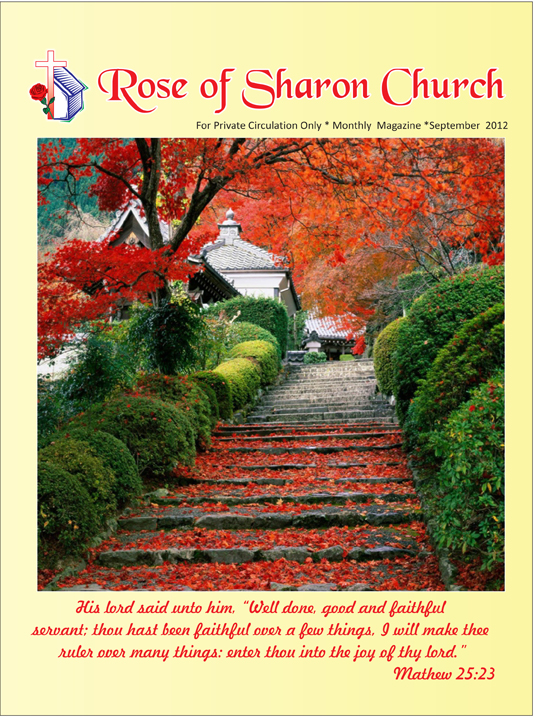 Editor's Note - Pastor Saroja
Testmonies
Meaningless Goal
Hammering Nails
Prayer
Rose Of Sharon Old Age Home - Mira Road, Mumbai
Rose Of Sharon - Kalina, Mumbai
Rose Of Sharon - Bhilad, Gujurat
Crossword and Maze
Testimony




* * * * * * * * * * * * * * * * * * * * * * * * * * * * * * * * * * * * * * * * * * * * * * * * * * * * * * *



| | |
| --- | --- |
| Editor's Note | |
Pastor Saroja M
Praise the Lord. I greet all my beloved readers in the name of my Saviour Jesus Christ. I thank my Lord for all the wonderful blessings He has given to each one of us. All Glory to God.

How do we see His Glory? When we praise God, He comes to dwell in our midst. His glory fills us all. So praise God with all your heart and mind.

2 Chron 5:13 & 14 says,"It came even to pass, as the trumpeters and singers were as one, to make one sound to be heard in praising and thanking the LORD; and when they lifted up their voice with the trumpets and cymbals and instruments of musick, and praised the LORD, saying, For he is good; for his mercy endureth for ever: that then the house was filled with a cloud, even the house of the LORD; So that the priests could not stand to minister by reason of the cloud: for the glory of the LORD had filled the house of God."

King Solomon knew that the secret to bring the Glory of God was only to praise God. So he appointed people to praise God with the trumpets, cymbals and instruments of music. They also sanctified themselves as given in 2 Chron 5: 11 & 12, "And it came to pass, when the priests were come out of the holy place: (for all the priests that were present were sanctified, and did not then wait by course: Also the Levites which were the singers, all of them of Asaph, of Heman, of Jeduthun, with their sons and their brethren, being arrayed in white linen, having cymbals and psalteries and harps, stood at the east end of the altar, and with them an hundred and twenty priests sounding with trumpets:)"

So when they sang, "The Lord is good, His mercy endures forever." The Lord's house was filled with a cloud.

So in your life also take a decision to praise God, for this is the reason God has chosen us. Isaiah 43:21 says, "This people have I formed for myself; they shall shew forth my praise."

In heaven, His praises continue day and night, so heaven is filled with God's glory. Rev 4:11 says, "Thou art worthy, O Lord, to receive glory and honour and power: for thou hast created all things, and for thy pleasure they are and were created."

Do not please man even for a day. Give God all the glory and honour due to Him from the depths of your hearts.

The more you praise God in your life, the more you will receive glory. When we worship God, His glory comes down in our midst.

The Psalmist says in Psalms 22:3 "But thou art holy, O thou that inhabitest the praises of Israel."

Beloved people of God praise God with all your hearts as the Psalmist says in Psalms 100:4, "Enter into his gates with thanksgiving, and into his courts with praise: be thankful unto him, and bless his name."

Heaven is full of His glory, so the created people also shall praise God. Psalms 102:18,"This shall be written for the generation to come: and the people which shall be created shall praise the LORD."

The angels also minister to God in praise. Psalms 103:20, "Bless the LORD, ye his angels that excel in strength, that do his commandments, hearkening unto the voice of his word."

Let the saints of God praise the Holy name of God. Psalms 30:4, "Sing unto the LORD, O ye saints of his, and give thanks at the remembrance of his holiness."

Psalms 149:5, Let the saints be joyful in glory: let them sing aloud upon their beds

Let all the peoples praise God. Psalms 117:1, O praise the LORD, all ye nations: praise him, all ye people.

It's the responsibility of children also to praise God. Mathew 21:16 says, "And said unto him, Hearest thou what these say? And Jesus saith unto them, Yea; have ye never read, Out of the mouth of babes and sucklings thou hast perfected praise?"

Out of the mouth of babes and nursing infants, God has ordained strength, because of your enemies, that you may silence the enemy and avenger.

Let everything that has breath praise the Lord. Only God is worthy of all glory, honour and praise. Hence it is our responsibility to honour God in praise and worship. Therefore, whether you eat or drink or whatever you do, do all to the glory of God.

So my beloved readers, I believe you also should praise God and receive His glory in your and your family's lives.

May God bless you all, till we meet again next month. Pastor Saroja M
* * * * * * * * * * * * * * * * * * * * * * * * * * * * * * * * * * * * * * * * * * * * * * * * * * *



Praise the Lord. I thank my Lord Jesus for His wonderful works in my life. I had a marble size gland in my throat. I was worried about the same. I showed it to Pastor Saroja and she advised me to apply the prayer oil and also assured me of her prayers. Within a week's time the gland totally disappeared. I thank Lord Jesus for healing me and thank Pastor Saroja for her prayers that healed my gland.

My second testimony is for my daughter Grace. She was having rashes because of wearing diapers and the rashes were very painful. I applied the prayer oil and the next day itself she was healed from the rashes and relieved of the pain as well. I thank my Lord and Saviour Jesus Christ for healing Grace and thank you Pastor for having prayed over the prayer oil.

** Sis. Hema Chilla, Mira Road

Praise the Lord. For three days I had severe back ache and I could not sleep the entire night. Every night the pain would be so severe that I had to sit up for 3 hours or so, suffering in pain. I phoned Pastor Saroja and told her my problem. Pastor assured me of her prayers. Surely God heard Pastor's prayer and my backache was healed instantly, with prayers alone. I started sleeping well from that night onwards. Thank you Pastor for praying for me and thank you Jesus for your healing touch upon my life.

** Sis. Sandra Daniels, Bangalore

Praise the Lord. I was suffering from throat infection and it was very painful. I was not able to eat properly and also my BP went low resulting in giddiness and headache. This happened continuously for 3-4 days. On Saturday after healing service, I told Pastor Saroja about this and Pastor prayed for me. After that, I was healed and my BP was back to normal. I give all glory, honor and thanks to our Lord Almighty and also thank Pastor for praying for me.

** Sis. Renita Arikswamy, Jogeshwari (E)

Praise the Lord. I praise and thank my God for constantly keeping His merciful hands over me and my family in all our needs and difficulties. My elder son being in SSC was not studying and was constantly getting low marks. Even in his prelims he had scored only 47% and 2nd prelims 56%. I was constantly requesting Pastor Saroja to pray for him. Even one day before the exams, I requested Pastor to pray for him and Pastor assured me of her prayers. Last week the 10th results were out and my son secured 79% marks and had done well in all subjects, even mathematics, in which he was very weak. This week he got his admission in St. Andrews College in the first list itself. This is surely a miracle of God. Thank you Pastor always for your prayers for all church members.

** Sis G. Gomes, Kalina

Praise the Lord. I would like to
take this opportunity for the Lord's mighty works in mine and my son's life. We are attending the prayer meeting in Bhilad for the last one year. My two testimonies are:

a) I was not feeling well for the last 4 weeks. When Pastor came to Bhilad, I told her of this problem. Pastor prayed for me and God heard His daughter's prayers and healed me. Now I am perfectly alright.

b) During summer my son gets bleeding from his nose. I told about this problem to Pastor and she prayed for him. After prayers, his nose bleeding stopped.

I therefore thank the Lord for healing my son and thank Pastor Saroja for praying for my son. Thank You Jesus!

** Sis. Rekhaben Ganesh, Bhilad

Praise the Lord. My name is Bhavna and I am attending the Bhilad Church meeting every Sunday for the last one year. I want to testify that I was not getting my monthly periods regularly and because of this I was having lots of problems. I told this problem to Pastor Saroja and she prayed for me. After Pastor's prayers, I am now getting them regularly. I therefore thank the Lord for this and also thank Pastor Saroja for praying for this request.

** Sis Bhavna Hemant, Kalgaon

Praise the Lord. I must say thanks for the Lord's mercy towards me. Last Thursday and Friday my elder daughter Aksha had severe fever due to mums. I took her to doctor and he said she will continue to have fever until and unless the swelling subsides. He gave her medicine, but no use the fever was constant. On Saturday morning I called Pastor and requested for her prayers. Immediately her fever started subsiding and she got completely healed the same day. I give God alone all glory and honor for His healing touch upon my daughter and also thank Pastor for her prayers.

Second testimony, I was not having proper electrical job last month, I had kept a prayer request for the same. By God's grace from last month till now I have been getting good jobs continuously. I want to thank God for his tender mercies upon me and my family and also thank Pastor for her prayers for us all.

** Bro. Jayanthilal Patel, Jogeshwari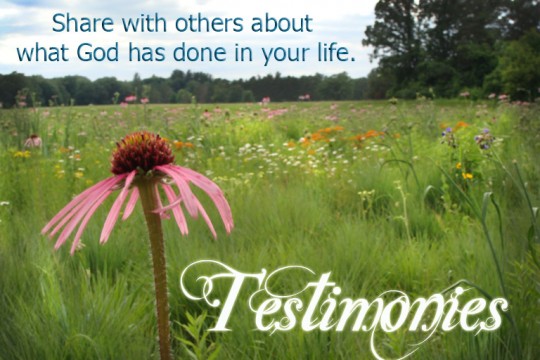 * * * * * * * * * * * * * * * * * * * * * * * * * * * * * * * * * * * * * * * * * * * * * * * * * * *
Meaningless Goal
A famer had a dog who used to sit by the roadside waiting for vehicles to come by. As soon as one came, he would run down the road, barking and trying to overtake it. One day, a neighbor asked the farmer "Do you think your dog is ever going to catch a car?" The farmer replied. "That is not what bothers me. What bothers me is what he would do if he ever caught one."

Many people in life behave like that dog by pursuing meaningless goals.


* * * * * * * * * * * * * * * * * * * * * * * * * * * * * * * * * * * * * * * * * * * * * * * * * * * * * * *
Hammering Nails
There once was a little boy who had a bad temper. His father gave him a bag of nails and told him that every time he lost his temper, he must hammer a nail into the back of the fence. The first day the boy hammered 37 nails into the fence. Over the next few weeks, as he learnt to control his anger and the number of nails hammered daily gradually dwindled down. He discovered it was easier to hold his temper that to drive those nails into the fence.

Finally, the day came when the boy didn't lose his temper at all. He told his father about it and the father suggested that the boy now pull out one nail for each day that he was able to hold his temper.

The days passed and the young boy was finally able to tell his father that all the nails were gone. The father took his son by the hand and led him to the fence. He said, "You have done well, my son, but look at the holes in the fence. The fence will never be the same.

When you say things in anger, they leave a scar just like this one. You can put a knife in a man and draw it out. It won't matter how many times you say I'm sorry, the wound is still there."

The little boy then understood how powerful these words were. He looked up at his father and said "I hope you can forgive me father for the holes I put in you." "Of course I can," said the father.


* * * * * * * * * * * * * * * * * * * * * * * * * * * * * * * * * * * * * * * * * * * * * * * * * * * * * * *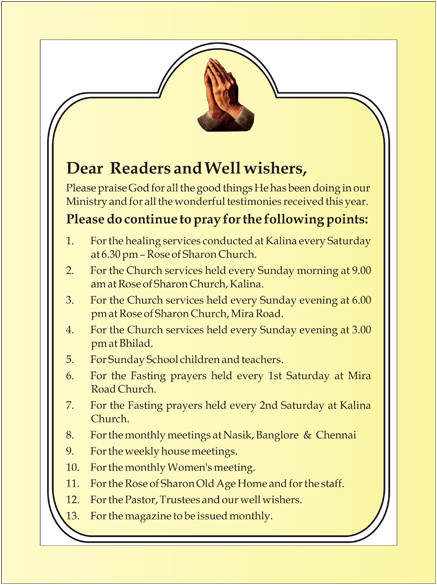 * * * * * * * * * * * * * * * * * * * * * * * * * * * * * * * * * * * * * * * * * * * * * * * * * * * * * * *
Rose of Sharon Old Age Home
Mira Road, Mumbai
Greetings to all our dear readers in the most matchless name of our Lord and Saviour Jesus Christ of Nazareth. It is a great joy once again to bring to our dear readers, instances from the lives of our dear one's residing here with us in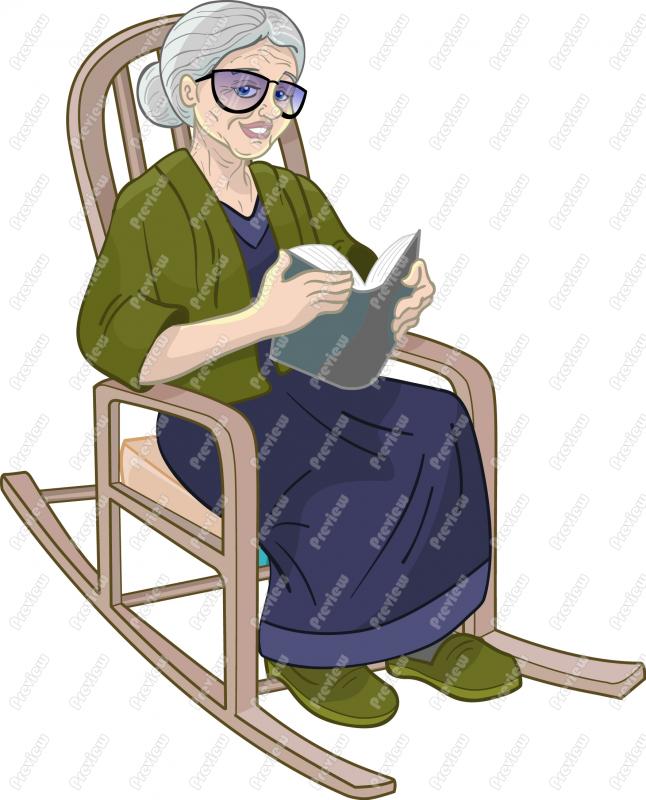 the old age home at Mira Road. We also take this opportunity to thank our Lord Jesus for His sustenance in every manner for the home and for bestowing all our residents with good health and peace.

In this month's edition, let me introduce you to granny Vilasini Karnataki. Granny Vilasini is 79 years old and used to be a resident of Thane. She was working as a supervisor in Parle Company, Vile Parle, Mumbai. By nature too, she is a supervisor to the core. I guess, she was born to be a supervisor, overlooking all things. Today too, she is very alert, a very keen observer and is persistent till she gets her work done. Her supervisory skills are very helpful at times, but at times it just gets on you when she persists with something. Whatever be the case, she is still helpful in updating us caretakers with minute details as she brings things to our notice. She knows the daily routine of the residents who are close to her bed and will keenly observe everything about them; if there is anything amiss, immediately she will bring it to our attention whether we need it or not. This is the only way she spends most of her time in the home and she loves it. We always feel that she must have been very good in her job as a supervisor in Parle Company.

Vilasini granny is a complete non-vegetarian and if given a choice would prefer to eat non-vegetarian food daily. Her favorite food is fish curry, fish fry and fried chicken. But when it comes to vegetarian food she is very fussy and choosy about the vegetables she eats. We have to feed her vegetarian food with a lot of coaxing.

Vilasini granny is a diabetic patient and her diabetes has been variable from the time she has come to the home. There have been times where her diabetes has risen and at times it has been normal. But by the grace of God, her diabetes has not impacted her health in any way as she follows her daily routine everyday. Apart from her diabetes, our good Lord has given her perfect health and there have been very few instances where she has fallen sick. We thank Lord Jesus for giving her good health and happiness as she stays here in the old age home at Mira Road.

*** Bro. Moses George


* * * * * * * * * * * * * * * * * * * * * * * * * * * * * * * * * * * * * * * * * * * * * * * * * * * * * * *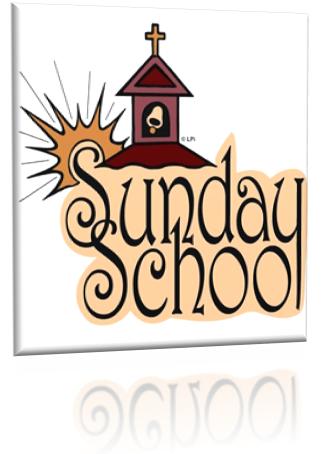 Rose of Sharon Sunday-School(Kalina, Mumbai)


Greetings in the name of our Lord and Saviour Jesus Christ. We continue to share the wonderful Sunday mornings our children spend at the Rose of Sharon - Sunday school. Let it rain, let is shine ... Sunday mornings to our children mean Sunday school and a lot of fun and excitement. It isn't just about hearing all the wonderful stories and incidences – but it is about having good fun while learning. An interesting way of keeping the children involved even as they hear from the bible is through games and skits. One such learning game that our children play at Sunday school is the "Biblical Dumb Charades"

Names of popular characters from the Bible are written and put in the centre of the circle. The children sit around and one child's name is called. He goes to the centre, picks up a chit with a name and opens it. He has to quickly enact the character from the Bible. The children seated around in the circle have to guess the right answer. They try and try and eventually the children get it right. Then they can in turn ask several questions to the actor in the centre about his character – and he has to answer them all. Once he gets all answers right, another child's name is called out and he is asked to go in the centre. The children enacted Daniel, Paul and the thankful Samaritan leper. The kids had great fun guessing who the character was – and later they enjoyed bombarding the child playing the character with all kinds of questions about the character enacted. What a joy it was to see the little children have a wonderful time of learning and having fun! Another enjoyable Sunday school...Praise the Lord!

** Sis. Sandra Daniels


* * * * * * * * * * * * * * * * * * * * * * * * * * * * * * * * * * * * * * * * * * * * * * * * * * * * * * *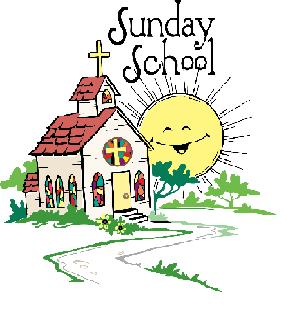 Rose of Sharon Sunday- Bhilad, Gujarat
Praise the Lord! We come once again with some interesting facts about our little ones at Bhilad Rose of Sharon Church.

It's wonderful to see all of the little children surrounding the elders and parents waiting to see us enter the gate. The month of August was different as we were celebrating the 1st anniversary of the church opening at Bhilad.

On our entry we were taken aback by the beauty of the decorations done in the church. All the members of the church had taken their time out to do this with zeal and creativity.

This time, the children enjoyed to be a part of the Church praise and worship as well as having delicious paayasum after the service. To our surprise, the children had prepared 2 beautiful songs in Gujarati for the occasion in praise and worship to our Lord Jesus and sang joyfully with enthusiasm to the beats of the bongo drums played by one of them. It was so encouraging to see the joy on their faces. May the Lord continue to be with these children and lift them up for His glory.

** Sis. Mercy George
* * * * * * * * * * * * * * * * * * * * * * * * * * * * * * * * * * * * * * * * * * * * * * * * * * * * * * *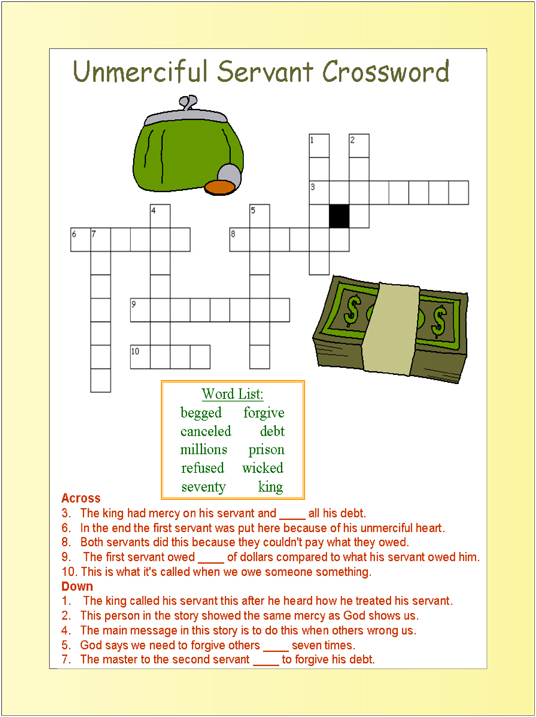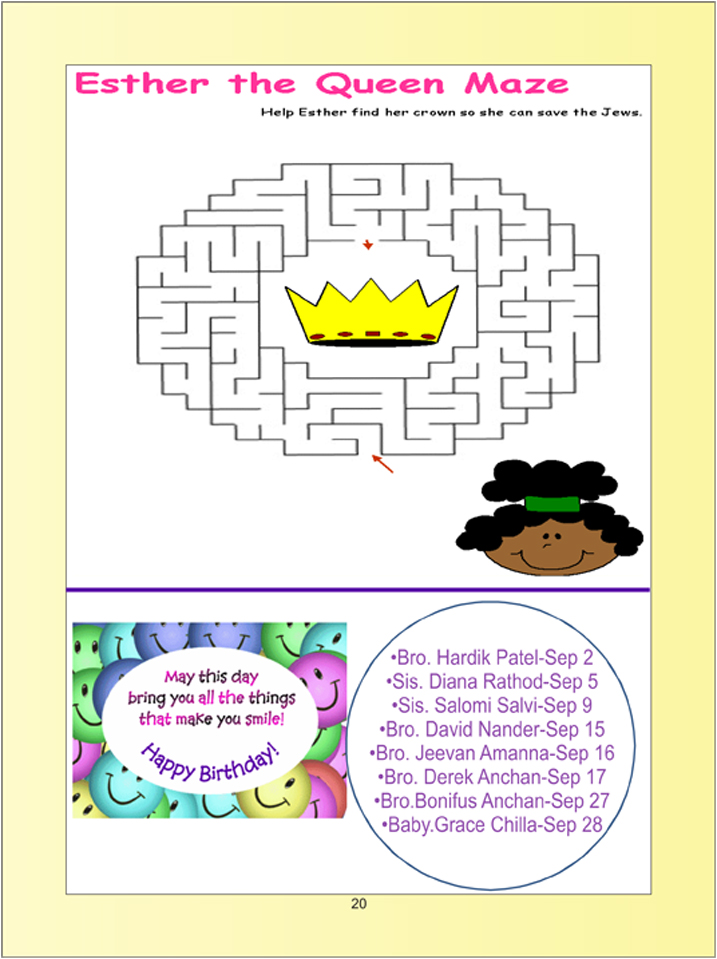 * * * * * * * * * * * * * * * * * * * * * * * * * * * * * * * * * * * * * * * * * * * * * * * * * * * * * * *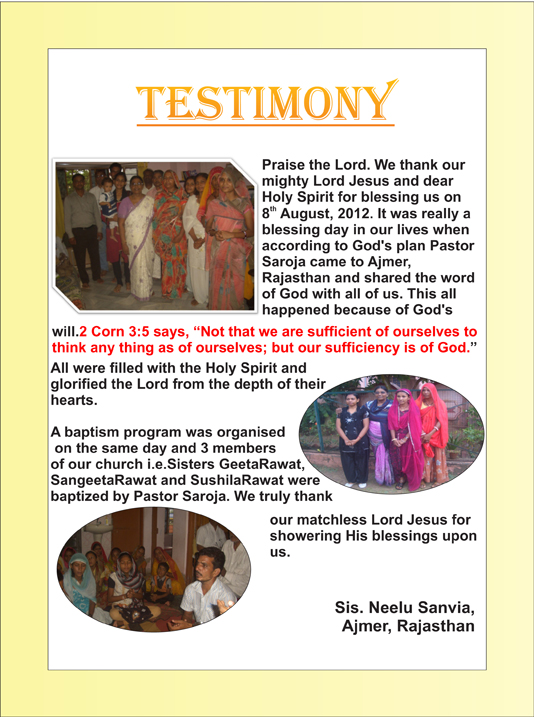 * * * * * * * * * * * * * * * * * * * * * * * * * * * * * * * * * * * * * * * * * * * * * * * * * * * * * * *