"Click here for Hindi Version"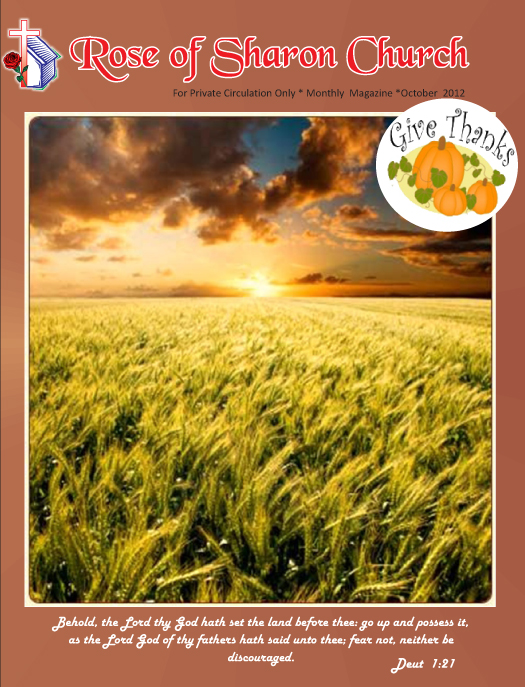 Editor's Note - Pastor Saroja
Testmonies
That's Life
A carrot, an egg, and a cup of coffee
You Say... God Says
Wishes
Birthday
Lord's word has no boundaries
ROS Old Age Home-Mira Road, Mumbai
From Bangalore with love
My life is in you Lord
Tower of Babel




* * * * * * * * * * * * * * * * * * * * * * * * * * * * * * * * * * * * * * * * * * * * * * * * * * * * * * *



| | |
| --- | --- |
| Editor's Note | |
Pastor Saroja M
Praise the Lord. I greet you all in the name of my Lord and Saviour Jesus Christ. I wish you all a Happy Harvest in your lives this month. As we celebrate the Harvest Festival in our church on the 14th of October, we look back in thanksgiving to all the blessings the Lord has given us in the past year. We thank the Lord for all His marvellous works.

The Bible says in Deut 7: 6 & 7,"For thou art an holy people unto the LORD thy God: the LORD thy God hath chosen thee to be a special people unto himself, above all people thatareupon the face of the earth.The LORD did not set his love upon you, nor choose you, because ye were more in number than any people; for yewerethe fewest of all people:"

"I will be a Father to you, and you shall be my sons and daughters, says the Lord Almighty."

David who knew the truth of Our Lord said of Him, in Psalms 142 : 5 "I cried unto thee, O LORD: I said, Thouartmy refugeandmy portion in the land of the living."

Jesus said with love and joy about Mary who sat at His feet in Luke 10:42, "But one thing is needful: and Mary hath chosen that good part, which shall not be taken away from her."

Abraham's first child was called Ishmael, his generation were the Arabs (Ishmaelites). Their blessing was the fat of the earth i.e. petrol. His second son was called Isaac. His generation were the Jews (Israelites). Their blessing was wisdom and knowledge, they were a great people.

At the same time Abraham has a spiritual son, His name is Jesus Christ. Mathew 1:1 says "The book of the generation of Jesus Christ, the son of David, the son of Abraham."

Jesus gave His own self for all Christians. His body and blood, He shed for us. Deut 32:10 says "He found him in a desert land, and in the waste howling wilderness; he led him about, he instructed him, he kept him as the apple of his eye."

To show His power to those who are loyal to Him, He says His eyes are upon this whole earth. 2 Chron 16:9 says "For the eyes of the LORD run to and fro throughout the whole earth, to shew himself strong in the behalf ofthemwhose heartisperfect toward him. Herein thou hast done foolishly: therefore from henceforth thou shalt have wars."

He is not the one to look to our faces but, He sees our heart. He has seen us in our lowly state and lifted us up.

When we were in pain, sorrow and trouble, His caring eyes has seen us. Luke chapter 10, speaks of a man who went to Jericho and he fell into the hands of robbers, who left him naked and wounded, nobody cared for him. Even the Levite and the priest passed him by but the good Samaritan found him and had compassion on him. He bound his wounds.

In our own lives today, our own mother, brothers and sisters may not understand our pain. But there is one God who knows our pain and sorrow, He is our compassionate God.

Luke 13 speaks of a lady who was bound for 18 years. She came to the temple and nobody cared for her, but Jesus saw her and placed His hands over her and she was freed from her bondage. She stood straight and worshipped the Lord.

When the Prodigal son came back home with tears, no one saw him, except his father. The father said to his elder son, Luke 15:32 "It was meet that we should make merry, and be glad: for this thy brother was dead, and is alive again; and was lost, and is found."

Our compassionate God Jesus can recognize hearts from a distance with what intention we are coming to Him. He will in no way cast out any one who comes to Him.

38 years a man lay sick at the Bethesda Pool. Nobody could deliver him from his pain. But Jesus eye found him. He comes near to him and asks him whether he wants to be healed. There Jesus healed him. Yes our Lord has seen us when we are in sorrow and alone. When we were as orphans, He has found us. He has purchased us by shedding His blood on the Cross of Calvary. He made us His children having the right to call Him Abba Father.

Deut 32:12 says "Sothe LORD alone did lead him, andthere wasno strange god with him."

For our Lord to lead you, give yourself into the mighty hand of God.As Romans 8:14 says "For as many as are led by the Spirit of God, they are the sons of God."

If we are the children of God, Our Lord has given His glorious blessing for us as given in Deut. 32:13 "He made him ride on the high places of the earth, that he might eat the increase of the fields; and he made him to suck honey out of the rock, and oil out of the flinty rock;"

Let this coming year, be a year of blessing for each one of us and our families as per God's promises.

God Bless You.

Pastor Saroja M
* * * * * * * * * * * * * * * * * * * * * * * * * * * * * * * * * * * * * * * * * * * * * * * * * * *



Praise the Lord ! I appeared for my F.Y.B.Com exams from the Mumbai University and I was facing a little difficulty to decide whether to attend the classes or study at home as I was working. I requested Pastor Saroja for her prayers for me. Praise God that I am the only person in my group who has passed the F.Y. B.Com exams without an ATKT. I give all glory to God alone and thank Pastor Saroja for praying for me.

** Bro. Robin A, Andheri (East)

Praise the Lord! I must thank the Lord for His mercy towards me. My elder daughter Aksha had severe fever, due to mums. I took her to doctor and he said that until she has the swelling and mums the fever will not reduce. The doctor gave her medicines but it was of no use, the fever did not decrease. Then I called Pastor Saroja and requested her for prayers. We noticed that immediately Aksha's fever subsided and she was completely healed on the same day. I give all glory to my Lord Jesus for His healing and also thank dear Pastor Saroja for her prayers.

Second testimony, I was not having proper electrical jobs last month. I had kept a prayer request in fasting prayer that I should get a job soon. Because of God's grace alone from that time onwards, I have got electrical jobs continuously. I thank my Lord God again for His tender mercies and also Pastor Saroja for her prayers.

** Bro Jayantilal Patel, Jogeshwari

Praise the Lord ! I hereby testify of God's goodness in my life. Some time back I had fallen down and hurt my hand badly. My hand was swollen. I went to the doctor who bandaged my hand and asked me to take an x-ray for further treatment . Since I could not afford the x-ray, I had come to the prayer meeting at Bhilad. I told Pastor Saroja my problem and she prayed over me. From that day onwards my hand is healed. There is no swelling or pain in my hands. I thank Lord Jesus for healing me and thank Pastor Saroja for praying for me.

** Sis Vasanthi Narendra, Kalgaon

Praise the Lord! My name is Bhavini Varekar from Kalgaon. I was suffering from severe hernia problem. I went to the municipal hospital but the doctors were not willing to attend to me. After trying many times to meet the doctors, I could not meet them. I phoned Pastor Saroja for her prayers, so that I could meet the doctor and he can operate on me. By God's grace alone I could meet the doctor and he agreed to operate my hernia. I am totally healed now. I am very grateful to Pastor Saroja who prayed for me. I thank Lord Jesus for hearing her prayers, through which I am healed. Thank you Jesus.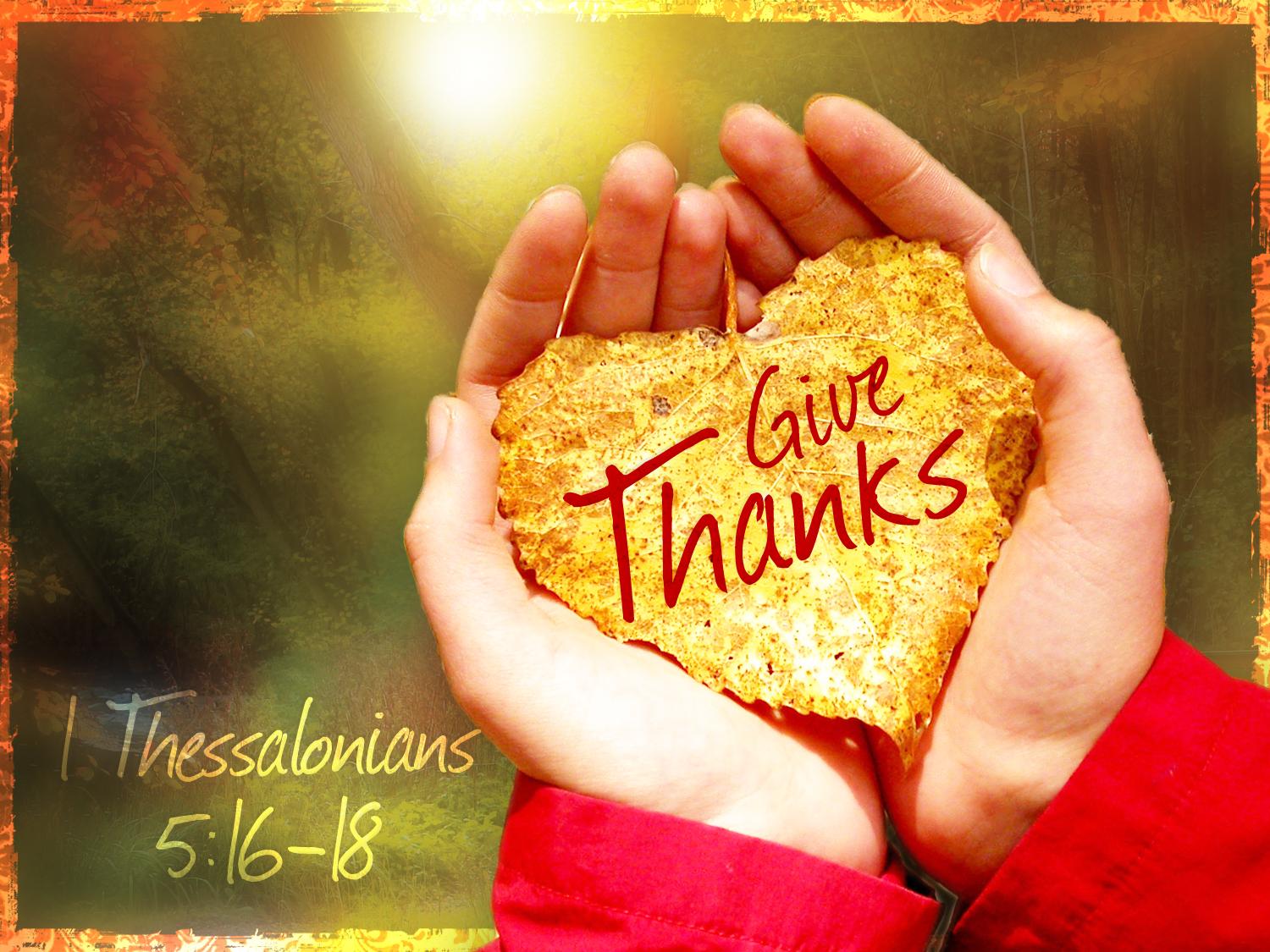 ** Sis Bhavini Varekar,Kalgaon

Praise the Lord! I was suffering from severe back pain. It was so severe that I could not stand or bend. The pain used to be there for some time and then go keep coming back. This went on for 3-4 days. I then told about my problem to Pastor Saroja, who agreed to pray for me. The very next day, I started getting better and the pain has finally gone. I want to thank Pastor Saroja for remembering me in her prayers and I want to thank my Lord Jesus for healing me. Thank you Jesus

Due to my pregnancy I used to vomit a lot. Day and Night I used to vomit, due to which I was dehydrated . Doctors gave me many medicines to stop my vomiting, but in vain. In the fasting prayer I kept a prayer request and due to the Lord God's mercy upon my vomiting has completely stopped. I give all glory to Lord Jesus for stopping my vomiting. I also thank Pastor Saroja for her fervent prayers.

** Sis Esther Patel, Goregaon (E)

Praise the Lord! I was suffering from severe headache and giddiness. After Sunday service at Bhilad, I told this matter to Pastor Saroja and she prayed for me. I immediately got healed from the headache and giddiness. I give all glory to Lord Jesus . I also thank Pastor Saroja for her prayers.

** Sis. Taraben, Bhilad

Praise the Lord. I was suffering from boils on my chest and also an allergy on my heads and legs. I took medication but it was of no use. Then I had attended the fasting prayer held in Kalina and wrote a prayer request that I should be healed from all my problems. Then within 3 – 4 days all my boils and allergies vanished. I give all glory to Lord Jesus and thank Pastor Saroja that she prayed for my prayer requests.

** Sis. Sunita Patel, Jogeshwari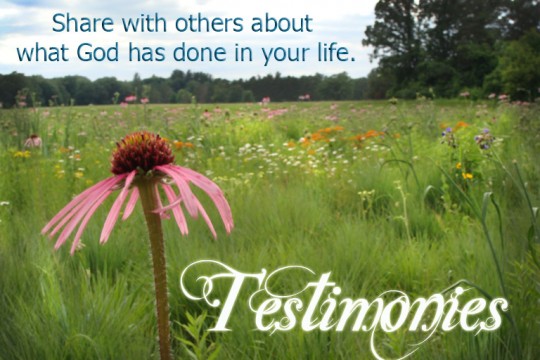 If our good Lord has worked in your life Through Pastor Saroja's prayers, the blessed oil or in any way through the Rose os Sharon Church, do share your testimony with us so that we may together glorify the God. Let let many others too be blessed hearing them. You could send your testimonies to us by post or email to us at : pastorsaroja@gmail.com
* * * * * * * * * * * * * * * * * * * * * * * * * * * * * * * * * * * * * * * * * * * * * * * * * * *
That's Life
A father and son are walking in the mountains. Suddenly, the son falls, hurts himself and screams: "Aaaahhhh!!!" To his surprise, he hears a voice saying, "Aaahhhh", somewhere in the mountains. Curious, he yells: "Who are you?" He receives the answer: "Who are you?" Angered at the response, he screams: "Coward!" He receives the answer: "Coward!" He looks to his father and asks: "What's going on?" The father smiles and then screams to the mountain: "I admire you!" The voice answers: "I admire you!" Again the man screams: "You are a champion!" The voice answers: "You are a champion!" The boy is surprised.

The father explains: "People call this ECHO, but really this is LIFE. It gives back everything you say or do. Our life is simply a reflection of our actions. If you want more love in the world, create more love in your heart. If you want more competence in your team, improve your competence. Your life is not a coincidence. It's a reflection of you!
* * * * * * * * * * * * * * * * * * * * * * * * * * * * * * * * * * * * * * * * * * * * * * * * * * * * * * *
A carrot, an egg, and a cup of coffee...
You will never look at a cup of coffee the same way again..

A young woman went to her mother and told her about her life and how things were so hard for her. She did not know how she was going to make it and wanted to give up. She was tired of fighting and struggling... It seemed as one problem was solved, a new one arose.

Her mother took her to the kitchen. She filled three pots with water and placed each on a high fire. Soon the pots came to boil. In the first she placed carrots, in the second she placed eggs, and in the last she placed ground coffee beans. She let them sit and boil; without saying a word. In about twenty minutes she turned off the burners. She fished the carrots out and placed them in a bowl. She pulled the eggs out and placed them in a bowl. Then she ladled the coffee out and placed it in a bowl.... Turning to her daughter, she asked, ' Tell me what you see.' 'Carrots, eggs, and coffee,' she replied..

Her mother brought her closer and asked her to feel the carrots. She did and noted that they were soft. The mother then asked the daughter to take an egg and break it. After pulling off the shell, she observed the hard boiled egg.

Finally, the mother asked the daughter to sip the coffee. The daughter smiled as she tasted its rich aroma. The daughter then asked, 'What does it mean, mother?'

Her mother explained that each of these objects had faced the same adversity: boiling water. Each reacted differently. The carrot went in strong, hard, and unrelenting. However, after being subjected to the boiling water, it softened and became weak. The egg had been fragile. Its thin outer shell had protected its liquid interior, but after sitting through the boiling water, its inside became hardened. The ground coffee beans were unique, however. After they were in the boiling water, they had changed the water.

'Which are you?' she asked her daughter. 'When adversity knocks on your door, how do you respond? Are you a carrot, an egg or a coffee bean?

Think of this: Which am I? Am I the carrot that seems strong, but with pain and adversity do I wilt and become soft and lose my strength?

Am I the egg that starts with a malleable heart, but changes with the heat? Did I have a fluid spirit, but after a death, a breakup, a financial hardship or some other trial, have I become hardened and stiff? Does my shell look the same, but on the inside am I bitter and tough with a stiff spirit and hardened heart?

Or am I like the coffee bean? The bean actually changes the hot water, the very circumstance that brings the pain. When the water gets hot, it releases the fragrance and flavor. If you are like the bean, when things are at their worst, you get better and change the situation around you. When the hour is the darkest and trials are their greatest do you elevate yourself to another level? How do you handle adversity? Are you a carrot, an egg or a coffee bean?

May you have enough happiness to make you sweet, enough trials to make you strong, enough sorrow to keep you human and enough hope to make you happy.

The happiest of people don't necessarily have the best of everything; they just make the most of everything that comes along their way. The brightest future will always be based on a forgotten past; you can't go forward in life until you let go of your past failures and heartaches. When you were born, you were crying and everyone around you was smiling.. Live your life so at the end, you're the one who is smiling and everyone around you is crying.


* * * * * * * * * * * * * * * * * * * * * * * * * * * * * * * * * * * * * * * * * * * * * * * * * * * * * * *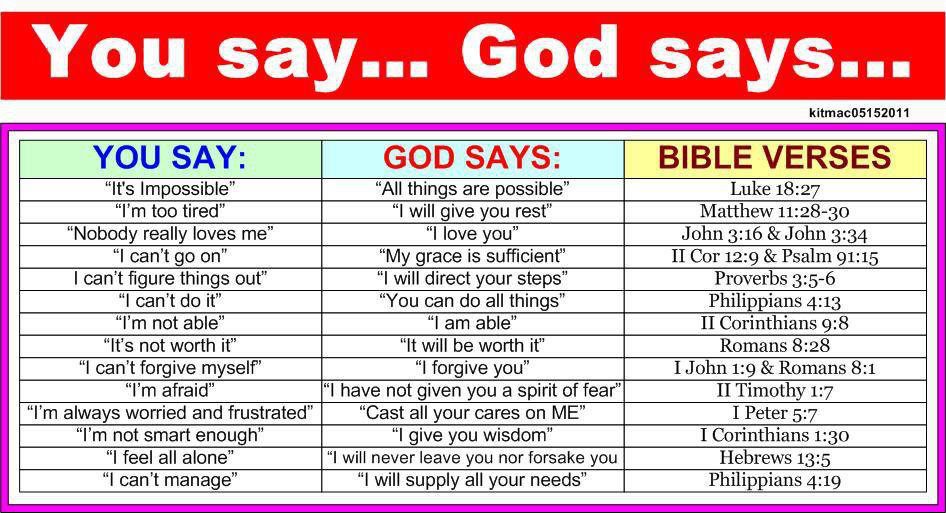 * * * * * * * * * * * * * * * * * * * * * * * * * * * * * * * * * * * * * * * * * * * * * * * * * * * * * * *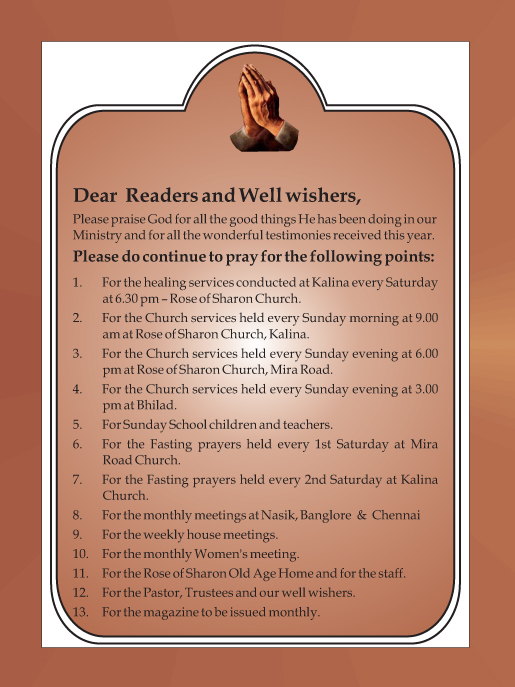 * * * * * * * * * * * * * * * * * * * * * * * * * * * * * * * * * * * * * * * * * * * * * * * * * * * * * * *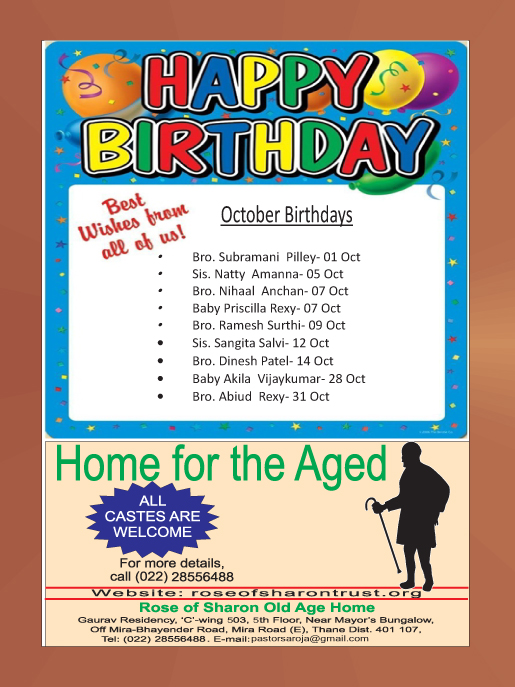 * * * * * * * * * * * * * * * * * * * * * * * * * * * * * * * * * * * * * * * * * * * * * * * * * * * * * * *
Lord's word has no boundaries….

God is good all the time! I thank you Lord Jesus for giving me this grace and wonderful opportunity to write this article. We all have experienced, that year after year our Lord Jesus is doing many mighty works and lifting the Rose of Sharon Church up in many ways and taking our Pastor Saroja to many different places to preach the word of God. In the same way, in the month of August 2012, as per God's will there was a prayer meeting scheduled in Ajmer, Rajasthan.

It is only by Lord's grace because of which I have experienced such a wonderful thing and also got the privilege to accompany Pastor Saroja and few brothers for the meeting. As the meeting was scheduled on 8th August, we departed Mumbai on 7th August and reached Ajmer on 8th morning. The Baptism Program was organized at 9 am and three sisters were baptized by Pastor Saroja. Thereafter, at 11 am the prayer meeting began. We started with praise and worship and then we heard the beautiful message which was shared by our dear Pastor Saroja. Many people had arrived for the meeting to hear the word of God. After the meeting there were many people who came forward for prayers and Pastor Saroja prayed for them and many people were blessed. Our Lord Jesus worked mightily in people's life.

On the same day, in the evening, we left from there to return to Mumbai and we reached here on the next day. Throughout the whole trip to Rajasthan Our Lord Jesus kept us all in unity and oneness. As we went praying and praising God we felt the Lord's presence in our midst.

Truly Our Lord Jesus is doing many mighty works which is beyond our knowledge. We are all so grateful that we have the true servant of God in our midst, that is, Pastor Saroja to guide us, correct us and counsel us and we all have such a church where living words are preached.

As the word says in Isaiah 40:3-5, "The voice of one crying in the wilderness: "Prepare the way of the Lord, make straight in the desert a highway for Our God. "Every valley shall be exalted and every mountain and hill shall be made low; the crooked places shall be made straight, and the rough places smooth.

The glory of the Lord shall be revealed and all flesh shall see it together; for the mouth of the Lord has spoken." In the same way, Our Lord prepared the place like Rajasthan and chose the people there. Our Lord Jesus is Almighty. All glory, honour and praise alone to Jesus.

Thank You Jesus ! Praise the Lord !
Bro. Dinesh Patel


* * * * * * * * * * * * * * * * * * * * * * * * * * * * * * * * * * * * * * * * * * * * * * * * * * * * * * *
ROS Old Age Home-Mira Road, Mumbai


Greetings once again to all our dear readers in the matchless name of our Lord and Saviour Jesus of Nazareth, we at the Rose of Sharon old age home in Mira Road wish one and all a very HAPPY HARVEST. We also take this opportunity to thank our dear Lord Jesus Christ for His manifold blessings for the home as well as personally and pray that the Lord may continue to shower His blessings always.

In this month's edition, I would like to share with our dear readers about grandpa Ramakant Honavar. Grandpa Ramakant hails from Honavar in Karnataka and is a resident of Dahisar in Mumbai. Grandpa Ramakant is 85 years old and by the grace of God, is hale and healthy and is only on vitamin pills. He was brought to the home on September 2009 and has completed 3 years with us. Even at 85, grandpa Ramakant suffers from no major sickness. In the past 3 years, by the grace of God, he has not taken any pills for cough or cold, he's never had a temperature or has ever taken a simple paracetemol like Crocin. Grandpa Honavar has a fixed routine each day starting with bath, breakfast, his sleeping time, lunch, tea, dinner everything is so fixed each day.

His only weakness is his forgetfulness, which is primarily due to old age. His memory lasts for only about 15 to 20 minutes. Within 15 minutes of having his meals, he tends to forget everything and will vehemently deny of having had a meal and will be upset with us caretakers for forgetting to give his meal, even that anger is for 15 minutes and then he will go to sleep forgetting everything and will get at up just before lunch time. Many may think that this poor uncle has a memory problem, but we feel that this is a blessing which God has given to old people to remain happy. If they are upset, they are upset for 15 minutes max, but after which they are back again to their cheerful self. Indeed God has made them like little children though they may have advanced in years. God knows best what he has done and we simply cannot question His wisdom when we understand what a perfect God He is. Just imagine, if they had to brood over all the difficult times in their life, I guess they would not have survived for long. We have to accept them as they are and be patient with them as we live according to them in their world.

When it comes to food, Grandpa Honavar is a cat and loves to eat fish, even a thorny fish is meticulously cleaned and relished by him. At the same time, he is not fussy about food and will eat whatever is served to him.

We thank the Lord for giving this grandpa good health and pray that Lord Jesus continue to give him good health and peace in the year ahead.

Praise the Lord!
** Bro. Moses George


* * * * * * * * * * * * * * * * * * * * * * * * * * * * * * * * * * * * * * * * * * * * * * * * * * * * * * *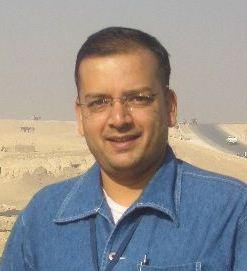 From Bangalore with love
Ps 107:8-9, "Oh that men would praise the LORD for his goodness, and for his wonderful works to the children of men! For he satisfieth the longing soul, and filleth the hungry soul with goodness."

For nearly two years, the Lord is leading Pastor Saroja to spread His word in Bangalore. Since we have moved to our new home a year ago, we have been blessed with the privilege of having these meetings at our home and truly it is this that sustains us immensely.

Initially when we began the Bangalore meetings in Dec 2010, we had many people from my workplace, but once I left and moved on, only a faithful few have persisted and come regularly. These meetings are held mostly on a monthly basis and bring the word of God to those who are blessed to attend.

The word was simple and easy to digest at first and now that people have been attending many meetings, the word is slowly going deeper and becoming more intense. What is heartening to see is that though the group is small, they are regular and seem like a family now.

The people attending are from different backgrounds and faiths. Some are Christians while others are of Hindu/Muslim faith. Yet it is the thirst for salvation that brings them to the fountain that flows from the Lord through His daughter, Pastor Saroja.

We believe that in the days to come, many mighty works will be done in Bangalore and recognised openly by the attendees. While the number of people attending may not be many, we believe that the Lord is leading Pastor Saroja to Bangalore for a purpose, even if it be for a select few. In the meantime we rejoice that we are a part of the select few who are blessed by these meetings.

We pray that the Lord will bless and grow His congregation in Bangalore and that He will continue to uphold and bless Pastor Saroja as she travels to so many places to minister to Him.

*** Bro. Ramiah Daniels
* * * * * * * * * * * * * * * * * * * * * * * * * * * * * * * * * * * * * * * * * * * * * * * * * * * * * * *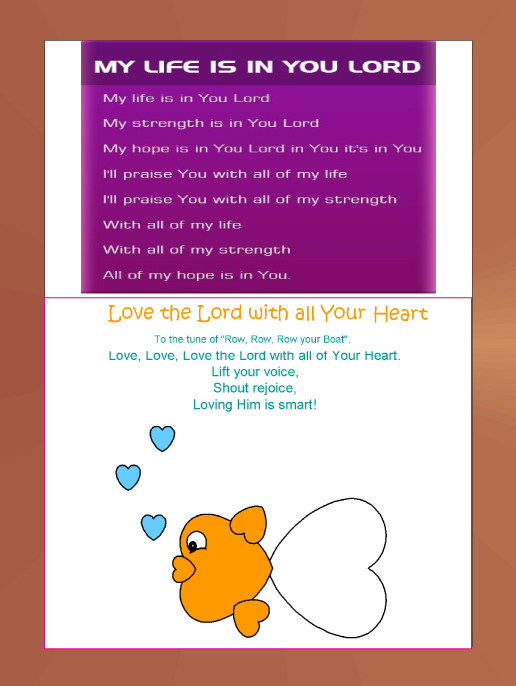 * * * * * * * * * * * * * * * * * * * * * * * * * * * * * * * * * * * * * * * * * * * * * * * * * * * * * * *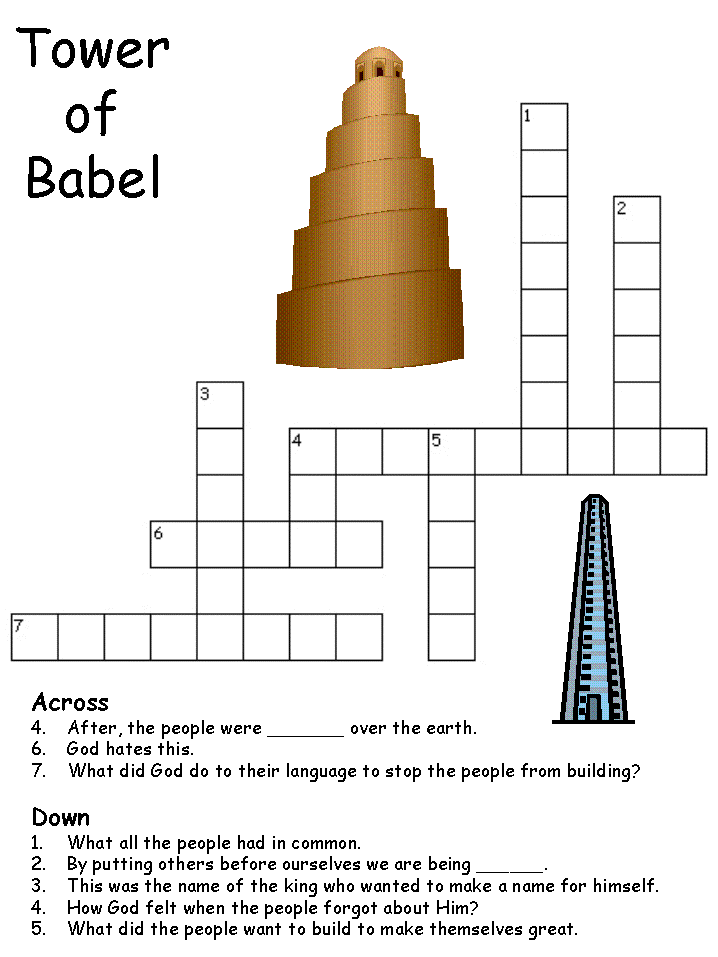 * * * * * * * * * * * * * * * * * * * * * * * * * * * * * * * * * * * * * * * * * * * * * * * * * * * * * * *