"Click here for Hindi Version"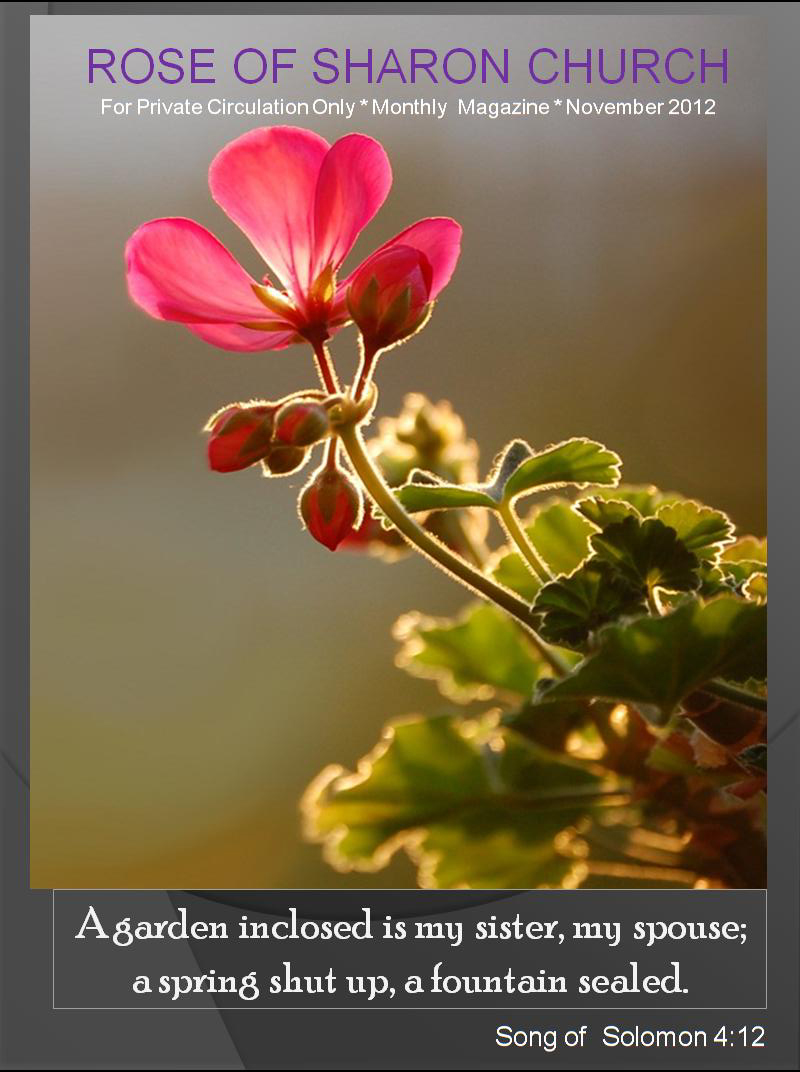 Editor's Note - Pastor Saroja
On The other side...
Testimonies
Do you acknowledge?
Jesus is
Rose Of Sharon - Kalina, Mumbai
Rose Of Sharon –Bhilad, Gujarat
ROS Old Age Home-Mira Road, Mumbai
Daniel & The Lions Anagram
Crossword
Birthday
Back Page




* * * * * * * * * * * * * * * * * * * * * * * * * * * * * * * * * * * * * * * * * * * * *



| | |
| --- | --- |
| Editor's Note | |
Pastor Saroja M
I greet you all in the name of my Lord and Saviour Jesus Christ.
Song of Solomon 1: 8 says, "If thou know not, O thou fairest among women, go thy way forth by the footsteps of the flock, and feed thy kids beside the shepherds' tents."

The sheep of the flock follows the shepherd. The shepherd always walks proudly before the flock. The sheep follows him gladly. In the Old Testament, we see the feet of many shepherds. Abraham, Isaac, Jacob and Moses were all shepherds. If we follow these shepherds they will lead us to Jesus Christ. Jesus is the Good Shepherd as given in John 10:11, "I am the good shepherd: the good shepherd giveth His life for the sheep."

He goes before us. He removes every hindrance before us. He is the leader for all. Micah 2:13 says, "The breaker is come up before them: they have broken up, and have passed through the gate, and are gone out by it: and their king shall pass before them and the LORD on the head of them."

Jesus looked at the cross and He walked like a warrior. He is the perfect shepherd, who gave His life for the sheep.

In the Old Testament, we see a daughter-in-law Ruth who followed her mother-in-law. She knew the truth, that the God who was with her mother-in-law was the living God. So with confidence she says as given in, Ruth 1:16," And Ruth said, Intreat me not to leave thee, or to return from following after thee: for whither thou goest, I will go; and where thou lodgest, I will lodge: thy people shall be my people, and thy God my God:"

So my beloved; follow the Lord. Isaiah 51:1 says, "Hearken to me, ye that follow after righteousness, ye that seek the LORD: look unto the rock whence ye are hewn, and to the hole of the pit whence ye are digged"

We see David praying with tears in Psalms 80:18, "So will not we go back from thee: quicken us, and we will call upon thy name."

In our weak times, we should look at the Lord and ask Him to renew our strength. As the trees which have dried during the summer receive new life from the rains during the monsoon; so also the dry seeds in the earth receive new life during the first rains. Similarly, our God has power to give new life to us. But if the Spirit of Him who raised Jesus from the dead dwells in you, He who raised Jesus from the dead will also give life to your mortal bodies through His Spirit who dwells you. Ephesians 2: 4-5 says, "But God, who is rich in mercy, for his great love wherewith he loved us, Even when we were dead in sins, hath quickened us together with Christ, (by grace ye are saved;)"

God's word has power to give us new life, so Jesus said, "It is the Spirit who gives life, the flesh profits nothing. The words that I speak to you are Spirit, and they are life."

Ps. 119:154 says, "Plead my cause, and deliver me: quicken me according to thy word." The earthly robber by showing a weapon will very easily rob you of all your earnings and riches. Satan is also a robber; he steals your peace, joy and also the word of God given to you. So Jesus says very clearly in Mathew 13:19, "When any one heareth the word of the kingdom, and understandeth it not, then cometh the wicked one, and catcheth away that which was sown in his heart. This is he which received seed by the way side."

God's word is given by the Spirit of God, it has life and truth.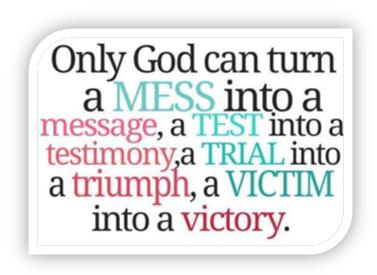 Psalms 19:10-14 says, "More to be desired are they than gold, yea, than much fine gold: sweeter also than honey and the honeycomb. Moreover by them is thy servant warned: and in keeping of them there is great reward. Who can understand his errors? Cleanse thou me from secret faults. Keep back thy servant also from presumptuous sins; let them not have dominion over me: then shall I be upright, and I shall be innocent from the great transgression. Let the words of my mouth, and the meditation of my heart, be acceptable in thy sight, O LORD, my strength, and my redeemer."

"The Law of your mouth is better to me than thousands of shekels of gold and silver." So be careful and do not fall into the robber's hands. Jesus defeated Satan by the word of God, and the sword of the Spirit. Ephesians 6:17 says, "And take the helmet of salvation, and the sword of the Spirit, which is the word of God:"

"For the word of God is living and powerful, and sharper than any two edged sword, piercing even to the division of soul and spirit, and of joints and marrows and is a discerner of the thoughts and intents of the hearts." Therefore my beloved, read the word of God faithfully every day, let it be a light unto your path. Be victorious in whatever you do!

May God bless you all till we meet again through this magazine next month.

Pastor Saroja M
* * * * * * * * * * * * * * * * * * * * * * * * * * * * * * * * * * * * * * * * * * * * * * * *
On the other side. . .


A sick man turned to his doctor, as he was leaving the room after paying a visit, and said, "Doctor, I am afraid to die. Tell me what lies on the other side." Very quietly the doctor said, "I don't know."

"Youdon't know?" the man asked?
"You, a Christian man, do not know what is on the other side?"
The doctor was holding the handle of the door, on the other side of which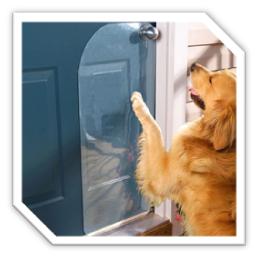 came a sound of scratching and whining. As he opened the door, a dog sprang into the room and leaped on him with an eager show of gladness.

Turning to the patient, the doctor said, "Did you notice my dog? He's never been in this room before. He didn't know what was inside. He knew nothing except that his master was here, and when the door opened, he sprang in without fear."

"I know little of what is on the other side of death," the doctor continued, "but I do know one thing: I know my Master is there, and that is enough. And when the door opens, I shall pass through with no fear, but with gladness."


* * * * * * * * * * * * * * * * * * * * * * * * * * * * * * * * * * * * * * * * * * * * * * * *



Praise the Lord. This testimony is for my daughter Grace, last week she was having high fever. I brought medicines for her, but the medicines did not help her much. Fever subsided for some time and then rose again. One day, during evening time her fever was very high, I called Pastor Saroja and requested her to pray. Pastor assured me of her prayers and in the morning her fever reduced considerably and by next day Grace was healed completely. I thank my Lord God for healing Grace and also thank Pastor Saroja for her faithful prayers.

Second testimony: Due to intake of medicines, Grace had allergy, red spots like rashes on her body and face. I informed Pastor Saroja about this and Pastor said she would pray for Grace. By the next day, the entire allergy on her body and face got healed. I thank Lord of healing Grace and also thank Pastor Saroja for her fervent prayers. Thank you Jesus!

** Sis. Hema Chilla, Mira Road

Praise the Lord. At my village, I wanted to place a water motor. I informed this to Pastor and requested her to pray for me. After prayers, we have now installed the water motor and we have sufficient water by God's grace. I want to thank my Lord Jesus for helping us to do this thing and I also want to thank Pastor Saroja for her prayers. Thank you Jesus!

** Sis. Kamla Kelkar, Nallasopara

Praise the Lord. I want to thank Lord Jesus for giving me this wonderful opportunity to glorify and magnify His Mighty works in my life. Two weeks ago my husband removed me out of the house; I telephoned Pastor Saroja and informed her about this. Pastor prayed for me and thereafter my husband took me in the house again. I give all glory and honour to my Lord Jesus for this wonderful thing and thanks to Pastor for praying for me. Thank you Jesus!

** Sis. Jyothi Surti, Vakola

Praise the Lord. For the past one year I was having very severe pain in my knees and feet. I could not sit nor stand properly. I was under treatment but there was no improvement at all. Last Saturday, while I came for the healing meeting, during the rally Pastor Saroja laid her hands and prayed for me. To my surprise, when I went home, I noticed that all my pain was gone. It's a miracle for since that day I have no pain at all neither in my knees nor feet. I give God all the glory and thank Pastor Saroja for remembering me in her prayers.

** Sis. Sangita Salvi

Praise the Lord. My name is Rasila Patel from Kalgaon, Bhilad. Since the last few days I was suffering from fever. The fever did not leave even after taking many medicines. I attended the Sunday prayer meeting at Bhilad and asked Pastor Saroja to pray for me. After prayers, the fever left me immediately and now I am totally healed. I thank God for my healing and I also thank Pastor Saroja for her sincere prayers for me. Thank You Jesus!

** Sis. Rasila Patel, Bhilad

Praise the Lord. I thank God for this opportunity He has given me to testify His goodness in my life. My husband was jobless for the past three months. After Pastor Saroja's prayers my husband got a job. He is now attending his duties for the last 12 days. I give a million thanks to Lord Jesus for the prayer answered and also thank Pastor Saroja for her sincere prayers for me.

** Sis. Rekha Ganesh, Bhilad

Praise the Lord. I am sorry for giving this testimony late. This testimony is about Tejaswini, my husband's secretary in Bangalore. She was married for about 6-7 years, but she did not have a child. She was very sad. Last year during one of Pastor's trip to Bangalore, I shared her plight to Pastor and she prayed for her, told her not to worry and advised her to apply the prayer oil on her stomach. After a few months she shared with me that she had conceived. She has subsequently delivered a healthy baby girl. What a wonderful testimony of our good Lord's mercy, strength and might! All glory to our Lord and Saviour Jesus Christ and also special thanks to Pastor Saroja for praying for her. Thank you Jesus!

** Sis. Sandra Daniels, Bangalore.


* * * * * * * * * * * * * * * * * * * * * * * * * * * * * * * * * * * * * * * * * * * * *
Do you acknowledge?


A newly arrived soul in Heaven was met by St. Peter. The saint toured the soul around Heaven. Both of them walked side by side inside a large workroom filled with angels.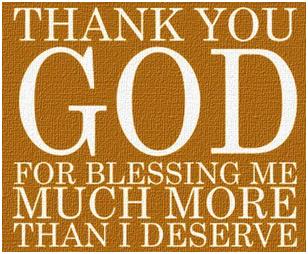 St. Peter stopped in front of the first section and said, "This is the Receiving Section. Here, all the petitions to God said in prayer are received." The soul looked at the section, and it was terribly busy with so many angels sorting out petitions written on voluminous paper sheets from all the people of the world.

They walked again until they reached the 2nd section, and St. Peter told the soul, "This is the Packaging and Delivery Section. Here, the graces and blessings the people asked for are packed and delivered to the persons who asked for them down on earth."

The soul saw how busy it was. There were so many angels working in that room, since so many blessing were being packed and delivered to Earth.

Finally at the farthest corner of the room, the soul stopped at the last section. To the surprise of the soul, only one angel stayed there idly, doing nothing. "This is the Acknowledging Section," St. Peter told the soul. "How is it that, there is no work here?" "That's the sad thing," St. Peter answered. "After the people received the blessings they asked for, very few send their acknowledgments."

Have you acknowledged the blessings you have received in your life today?


* * * * * * * * * * * * * * * * * * * * * * * * * * * * * * * * * * * * * * * * * * * * *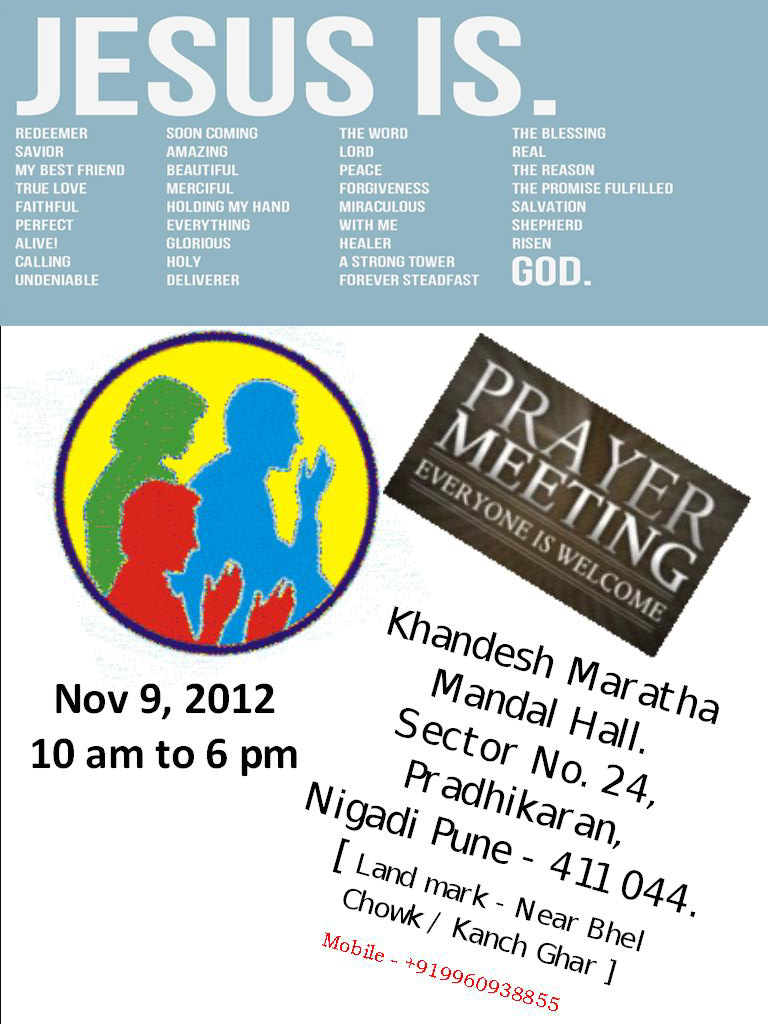 * * * * * * * * * * * * * * * * * * * * * * * * * * * * * * * * * * * * * * * * * * * * *

Rose Of Sharon - Kalina, Mumbai
This is the exciting and enjoyable time of the year in Sunday school when the Bible-studies portion has been completed and all our little children are looking forward to the preparations for the exciting Christmas programme in December.

For our little children, this time of practise for songs with actions and dance and drama means the coming of the big day of celebrations when songs and drama will be presented by all age groups - and then at the end Santa Claus will come from a far–away land with a huge bag of goodies... all this means a lot of excitement for them.

The children have already started their practices for the programme... each child is excited and wants to be a part of the songs and skits. They are curious and wondering which Bible story will they enact – and which part they will play!

The older and more experienced children, who are creative, are visualizing what the props should be, what will be the costumes they will wear and the make –up ideas for the characters etc...

What fun as they practise and prepare to celebrate the wonderful day of commemoration of the birth of our Lord and Saviour Jesus Christ! May we also with child-like glee, as innocent as these little children, live a life of thankfulness and joy for the presence of Jesus Christ in our life every day of the year.

Praise the Lord!

** Sis. Sandra Daniels
* * * * * * * * * * * * * * * * * * * * * * * * * * * * * * * * * * * * * * * * * * * * *
Rose Of Sharon –
Bhilad, Gujarat
Soon, we're nearing the most beautiful time of the year – Christmas. With Christmas nearing, all the children at Bhilad Sunday School are excited about the long awaited time of the year.

The children have started participating in the skit and the song for Christmas. Each one of them wants to play a character in the skit. They are looking forward to travel all the way to Mumbai and perform their parts on the stage and also watch the Mumbai Rose Of Sharon Sunday School do their bits.

We must say that some of the children at Bhilad are too good in visualizing concepts as we've completed one only Sunday of practice and the children were already discussing about the costumes. We started off with the song practice too. We pray that Lord helps us put up one of the best programmes this year.

** Sis. Mercy Moses


* * * * * * * * * * * * * * * * * * * * * * * * * * * * * * * * * * * * * * * * * * * * *
ROS Old Age Home-Mira Road, Mumbai

Greetings to all our dear readers in the Matchless name of our Lord and Saviour Jesus of Nazareth. The month of October has passed by in the twinkling of an eye and we look forward for the soon approaching festive season of the birth of our Lord Jesus Christ. God is good and has taken good care of all of us at the Rose of Sharon old age home at Mira Road.

In this month's edition, let me introduce you to uncle Jerry D'souza who is 60 years old and is a resident of Kalina, Santacruz. Uncle Jerry was brought to the home in March 2012 and has completed 9 months with us in the old age home.

In appearance, uncle Jerry is very lanky, he barely weighs 45 kgs and having a waist of less than 20 inches. At one time, when we were joking with him on his body frame, he left us surprised and wondering by saying "I was body building at one time and used to have my own gym. He fondly recalls of those days how he loved to play football and had to stop playing after having fractured his leg.

Uncle Jerry loves to sleep and if given a chance would prefer to sleep the entire day. With a lot of coaxing and force he will sit down during mealtimes, his favorite line for not sitting is that somebody from up is pushing and not allowing him to sit.

Foodwise, uncle Jerry eats everything that is served without any fuss, but as all East Indians do, his favorite is fish, specially the dry kind, Bombil and kardi. Misal pav is also in his list of likes.

To conclude, I would say that God has given good health to Uncle Jerry while his stay here with us at the old age home. May our good Lord Jesus be with him and take care of him even in the days to come as he stays with us in the Rose of Sharon old age home at Mira Road.

Praise the Lord!!!

*** Bro. Moses George


* * * * * * * * * * * * * * * * * * * * * * * * * * * * * * * * * * * * * * * * * * * * *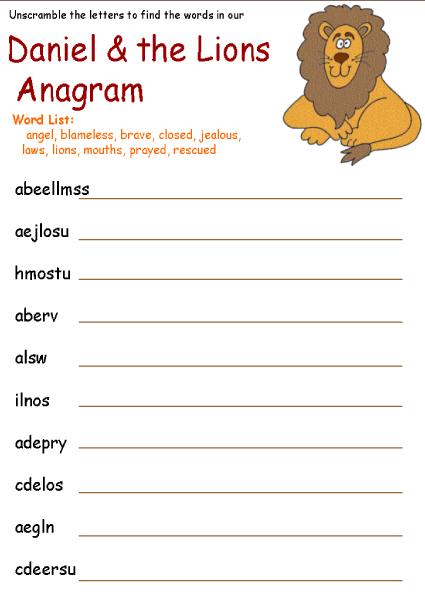 * * * * * * * * * * * * * * * * * * * * * * * * * * * * * * * * * * * * * * * * * * * * *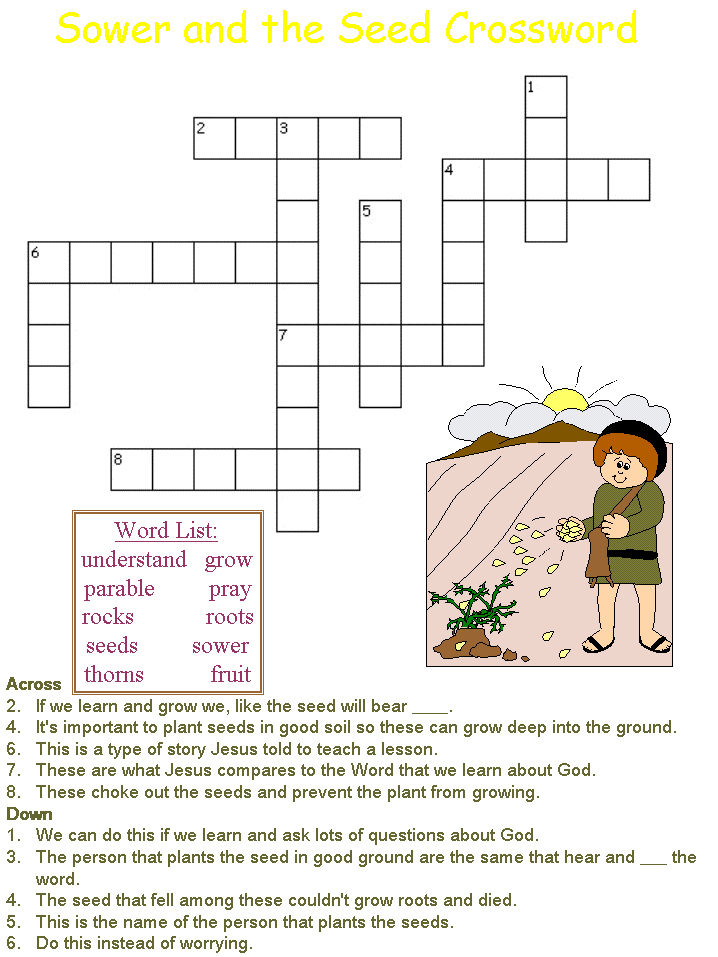 * * * * * * * * * * * * * * * * * * * * * * * * * * * * * * * * * * * * * * * * * * * * *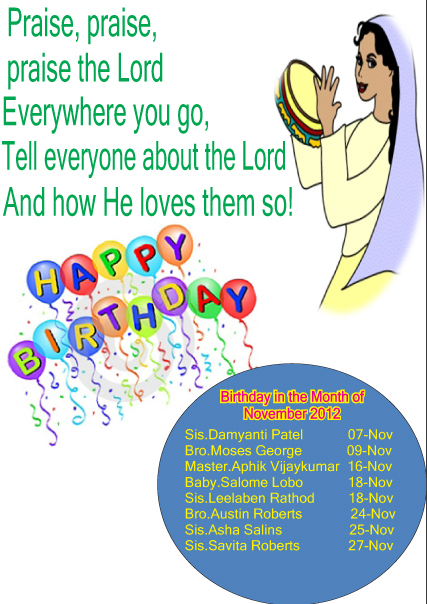 * * * * * * * * * * * * * * * * * * * * * * * * * * * * * * * * * * * * * * * * * * * * *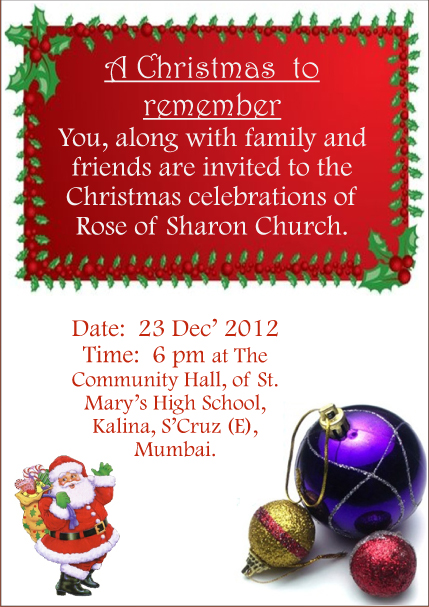 * * * * * * * * * * * * * * * * * * * * * * * * * * * * * * * * * * * * * * * * * * * * *