"Click here for Hindi Version"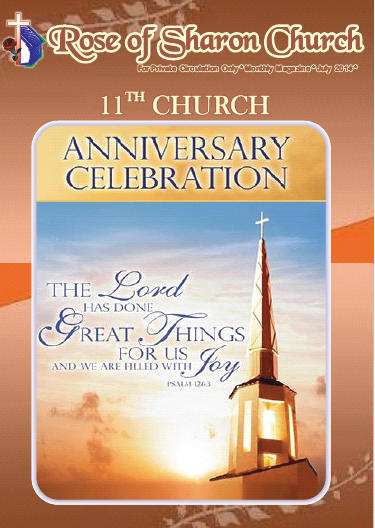 * * * * * * * * * * * * * * * * * * * * * * * * * * * * * * * * * * * * * * * * * * * * *
Editor's Note

I greet you all on the joyous occasion of the 11th anniversary of the Rose of Sharon Church. May our God continue to pour out His blessings on the Rose of Sharon Church members in all its branches and on all our readers.
Exodus 34:10 - And he said, Behold, I make a covenant: before all thy people I will do marvels, such as have not been done in all the earth, nor in any nation: and all the people among which thou art shall see the work of the LORD: for it is a terrible thing that I will do with thee.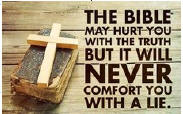 Definitely our God in our lives will do great wonders and miracles… Which does great work past finding out, yes, and wonders without number. In the Scriptures, we can see many great miracles. The Holy Scriptures itself is a miraculous book.
When miracles happen people see the love and power of God; then the Lord's name will be glorified.
He not only does miracles Himself, but through His prophets, disciples and believers, He is also doing miracles today. John 14:12 - Verily, verily, I say unto you, He that believeth on me, the works that I do shall he do also; and greater works than these shall he do; because I go unto my Father.
Our Lord strengthened Moses according to Exodus 7:1 - And the LORD said unto Moses, See, I have made thee a god to Pharaoh: and Aaron thy brother shall be thy prophet.
The same God can use you also. God has chosen the foolish things of the world to confound the wise and God has chosen the weak things of the world to confound the things which are mighty. And base things of the world, and things which are despised has God chosen, yes, and things which are not, to bring to naught things that are. The same wonder working gifts the Lord will give you. Psalms 68:18 - Thou hast ascended on high, thou hast led captivity captive: thou hast received gifts for men; yea, for the rebellious also, that the LORD God might dwell among them.
Our God is full of love and compassion and rich in mercy. Jeremiah 32:27 - Behold, I am the LORD, the God of all flesh: is there any thing too hard for me?
Our God who changed water to wine; Our God who calmed the sea and the storms; Our God who walked on the sea in the middle of the night to help the disciples; are these not miracles and mighty wonder works?
With five bread and two fishes, God fed five thousand people. Again with seven bread and some small fishes, God fed four thousand people, are these not miracles? Deuteronomy 33:3 - Yea, he loved the people; all His saints are in thy hand: and they sat down at thy feet; every one shall receive of thy words.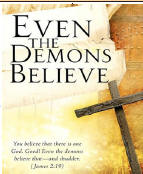 On one side God is doing wonderful miracles and on the other side, He trains His disciples to do miracles through them. Mark 16:20 - And they went forth, and preached every where, the Lord working with them, and confirming the word with signs following. Amen.
My beloved ones of this generation, it is now your time to do wonders and miracles. The Lord wants to give the gift of healing and miracles to you. Acts 19:11 - And God wrought special miracles by the hands of Paul:
<![if !vml]>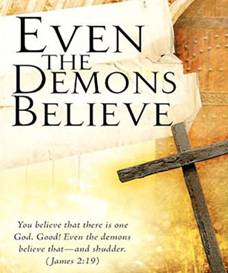 <![endif]>God gives warning to the people to fear Him. He will judge miraculously. Remember the deaths of Ananias and Sapphira? They sinned against the Holy Spirit and such great judgment came on them. This judgment brought fear upon the entire congregation. Acts 5:11 And great fear came upon all the church, and upon as many as heard these things.
In the Old Testament, the ten miracles which Moses did before Pharoah were miracles of judgment.
Even after the ten plagues, Pharoah hardened his heart, due to which Pharoah lost his firstborn son.
When Moses' sister Miriam spoke against him, God's terrible judgment came upon her and immediately, she got leprosy. Numbers 12:8-10 - With him will I speak mouth to mouth, even apparently, and not in dark speeches; and the similitude of the LORD shall he behold: wherefore then were ye not afraid to speak against my servant Moses? And the anger of the LORD was kindled against them; and He departed. And the cloud departed from off the tabernacle; and, behold, Miriam became leprous, white as snow: and Aaron looked upon Miriam, and, behold, she was leprous.
In the same way, when Korah stood against Moses the earth opened and swallowed Korah and his family. Numbers 16:28-32 - And Moses said, Hereby ye shall know that the LORD hath sent me to do all these works; for I have not done them of mine own mind. If these men die the common death of all men, or if they be visited after the visitation of all men; then the LORD hath not sent me. But if the LORD make a new thing, and the earth open her mouth, and swallow them up, with all that appertain unto them, and they go down quick into the pit; then ye shall understand that these men have provoked the LORD. And it came to pass, as he had made an end of speaking all these words, that the ground clave asunder that was under them: And the earth opened her mouth, and swallowed them up, and their houses, and all the men that appertained unto Korah, and all their goods.
He that touches you, touches the apple of His eye, will not God bring terrible judgment on those who touch you?
<![if !vml]>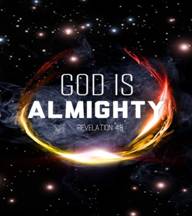 <![endif]>God who came seeking fruit from the fig tree found only leaves and no fruit. God's judgment came immediately upon the tree, and it dried up from the roots. Mark 11:20 - And in the morning, as they passed by, they saw the fig tree dried up from the roots.
Today too, the axe is laid unto the root of the trees, therefore every tree which bringeth not forth good fruit is hewn down and cast into the fire.
So today itself you must blossom and be fruitful. Luke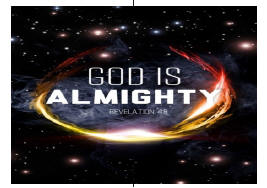 10:19 - Behold, I give unto you power to tread on serpents and scorpions, and over all the power of the enemy: and nothing shall by any means hurt you.
The God that gives us this authority is Almighty. He has all power in heaven and on earth. He that is in you is greater than the one in this world.
So my dearly beloved, let the coming year be a great year of victory for all who believe and claim the promises of God.
May God bless you all.
Pastor Saroja M.
* * * * * * * * * * * * * * * * * * * * * * * * * * * * * * * * * * * * * * * * * * * * * * * *

Two months ago I had breathing problem and also my head and teeth were paining a lot. I called up Pastor Saroja and informed her of my problem. She advised me to apply the prayer oil and I did as advised. Also, the same week after healing service I asked Pastor to pray for me, from that day onwards I was healed complete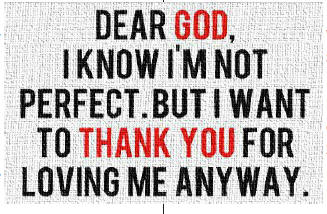 ly. My second testimony, after a month, I had swelling in my leg and the pain was unbearable. I informed Pastor Saroja of this and she advised me to apply the prayer oil and also prayed for me. I followed Pastor's instructions and I was completely healed. I want to praise and thank Lord God for healing me and also thank Pastor Saroja for her advice and prayers for me. Praise the Lord!
** Sis. Tara Khushwa, Jogeshwari,
Some days ago, I was suffering from mild stomachache and nausea for almost a week and was restless because of the same. That following Sunday after service, I informed Pastor Saroja of my problem and she laid her hands on me and prayed compassionately. I was healed immediately, even before reaching home. I thank God for healing instantly and also thank Pastor Saroja for her prayers for me. Praise the Lord!
** Sis.Smita Salvi, Thane
For many months I was suffering from severe left shoulder pain and I could not lift my hand completely. One Saturday after healing prayer service I informed Pastor Saroja. She gave me some advice and also prayed for me. I obeyed Pastor Saroja's advice and soon I realized my pain had gone away and I could now lift my hand without any pain. I thank and praise God for His touch upon me and healing me. Also thank Pastor Saroja for her advice and sincere prayers. Praise the Lord !
** Sis Savita Roberts, Vakola
Firstly I ask for forgiveness for testifying late. Last month while travelling by train I was hit on my head, at that time I did not realize the pain. But later I experienced pain and also swelling in my head. After Saturday healing service I informed Pastor Saroja of the same. She advised me

to use the prayer oil and also prayed for me. I did as Pastor advised, the swelling and pain gradually healed completely. I thank my Lord and Savior for healing me and also whole heartedly thank Pastor Saroja for her advice and prayers and helping me to come out of such a big problem. Praise the Lord!
** Bro. Joseph Arikswamy, Jogeshwari
As the church picnic dates were announced, I was worried that I may not get leave. After the Saturday service, I informed this matter to Pastor and requested her for prayers. By God's grace alone, my leave was sanctioned as required. I give all glory to our Lord and Savior Jesus Christ and also thank Pastor Saroja for praying for me. Thank you Lord, Praise the Lord!
** Sis. Esther Patel
My apologies for this late testimony, few days ago I had kept a prayer request with Pastor Saroja for my family, since there used to be lots of fights at home everyday. Pastor assured me of her prayers and I want to testify that the situation in my house is now OK. I want to thank and glorify our Lord Jesus Christ for this peace in my family and also my heartfelt thanks to Pastor Saroja for her prayers for me and my family. Praise the Lord!
** Sis.Jyothi Surti, Vakola
In the month of March I had got an opportunity to give an hour's talk at a meeting of hotel investors and operators, at Chennai. Once the date was confirmed, I informed Pastor Saroja and requested to lift me in her prayers. By God's grace alone I could deliver a good lecture which was appreciated by all. Truly as said in Proverbs 21:31 "The horse is prepared for the day of battle, but victory belongs to the Lord". Though I had prepared for my lecture, it was God alone who lifted me up. I thank my Lord God for His blessings upon me and also want to thank Pastor Saroja for her fervent prayers for me. Thank you Lord! Praise the Lord!
** Bro Ramiah Daniels, Bangalore
* * * * * * * * * * * * * * * * * * * * * * * * * * * * * * * * * * * * * * * * * * * * *
STORY
ICE CREAM FOR THE SOUL
Last week I took my children to a restaurant. My six-year-old son asked if he could say grace. As we bowed our heads he said, "God is good. God is great. Thank you for the food, and I would even thank you more if mom gets us ice cream for dessert. And Liberty and justice for all! Amen."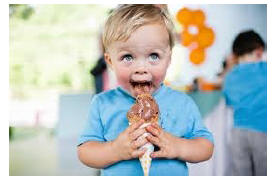 Along with the laughter from the other customers nearby, I heard a woman remark, "That's what's wrong with this country. Kids today don't even know how to pray. Asking God for ice-cream! Why, I never! "Hearing this, my son burst into tears and asked me, "Did I do it wrong? Is God mad at me?" As I held him and assured him that he had done a terrific job and God was certainly not mad at him, an elderly gentleman approached the table. He winked at my son and said, "I happen to know that God thought that was a great prayer." "Really?" my son asked. "Cross my heart."

Then in a theatrical whisper he added (indicating the woman whose remark had started this whole thing), "Too bad she never asks God for ice cream. A little ice cream is good for the soul sometimes."

Naturally, I bought my kids ice cream at the end of the meal. My son stared at his for a moment and then did something I will remember the rest of my life. He picked up his sundae and without a word walked over and placed it in front of the woman. With a big smile he told her, "Here, this is for you. Ice cream is good for the soul sometimes, and my soul is good already.

HUMOUR

DOMINATED MEN

God looks over the millions of people and says 'Welcome to Heaven. I want the women to go with Saint Peter, and the men to form two lines. Make one line of the men that dominated their women on earth, and the other of men who were dominated by their women.'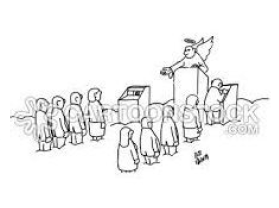 There's much movement, but eventually the women are gone and there are two lines. The line of the men that were dominated is 100 miles long. The line of men that dominated women has only one man.
God gets angry and says, 'You men should be ashamed of yourselves. I created you in my image and you were all dominated by your mates. Look at the only one of my sons that stood up and made me proud. Learn from him!'
He turns to the man and says, 'Tell them, my son. How did you manage to be the only one on that line?'
The man says, 'I don't know, my wife told me to stand here.'


* * * * * * * * * * * * * * * * * * * * * * * * * * * * * * * * * * * * * * * * * * * * *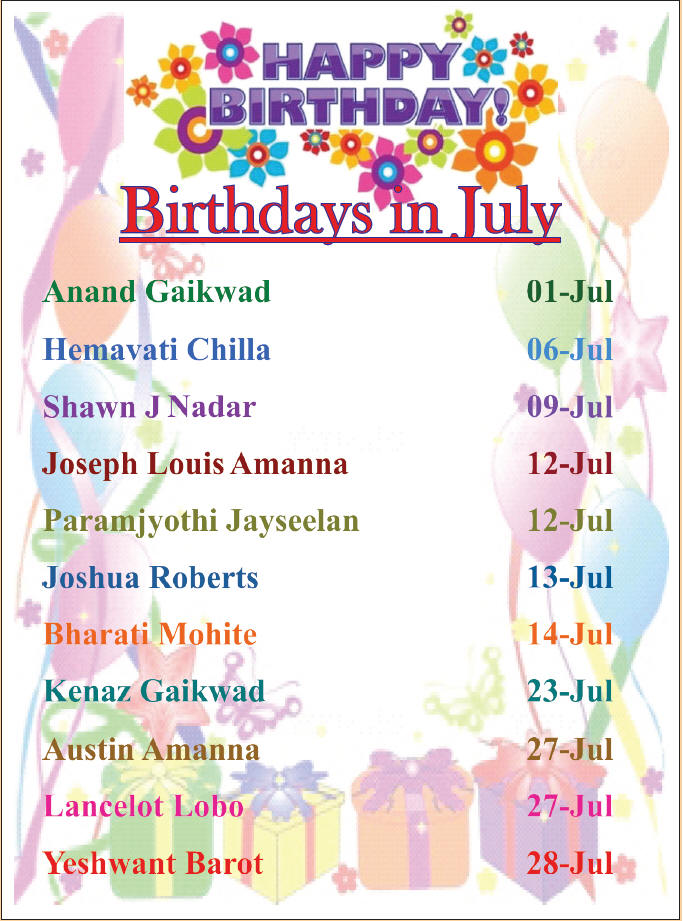 * * * * * * * * * * * * * * * * * * * * * * * * * * * * * * * * * * * * * * * * * * * * *


Isaiah 45:17 But Israel shall be saved in the LORD with an everlasting salvation: ye shall not be ashamed nor confounded world without end.

Lord God has written in His word that Israel will not be ashamed and disgraced. When we are disgraced before someone, it brings great sorrow and pain in our hearts and we feel ashamed of it. If we recall the 2013's last Sunday message for the year

Haggai 2:5 says According to the word that I covenanted with you when ye came out of Egypt, so my spirit remaineth among you: fear ye not.

In this verse, we have seen that Father God, His son Jesus Christ and the Holy Spirit helps us and is continuing to help us even today. We have read in

Isaiah 45:17 But Israel shall be saved in the LORD with an everlasting salvation: ye shall not be ashamed nor confounded world without end.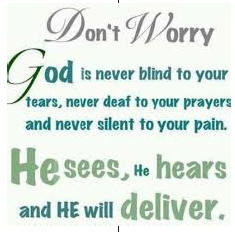 Who is Israel? We are Israel. It is we who will be comforted by God. It is we who will receive blessings, joy and happiness from our God, His son Jesus Christ and through the Holy Spirit. Thus, once again today God assures us that we will not have to face disgrace or be ashamed of anything in this world. When will we receive such grace from God? We will receive such grace from Father God, His son Jesus Christ and from the
Holy Spirit when we honour them completely. When we bow before them and give them first place in our lives, the word as promised in Is 45:17 will come to pass. God will never give us an opportunity to put down our head before our enemies and the gentiles. He will always give us the grace to hold our head firmly up and the courage to face this world with respect. But remember, when we do not give our Father God, Jesus Christ His son, and the Holy Spirit the due respect and first place in our lives, then as written in Deut 28 many of these promises will reverse in our lives. The curse will not be for the gentiles or those who are not worthy to call the Father God as 'Abba Father'; rather it will backfire on us. It is important for us to remember that when God is with us, He will never put us to shame before the enemies.
Prophet Joel writes the same in Joel 2:26 And ye shall eat in plenty, and be satisfied, and praise the name of the LORD your God, that hath dealt wondrously with you: and my people shall never be ashamed. As promised by God, we shall have plenty of food and we will be satisfied. When we continue to praise the name of our Lord God, He will deal with us wonderfully and never let us be disgraced.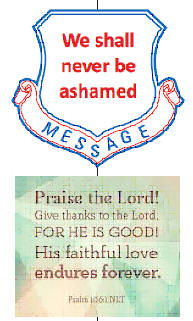 Many of us enjoy everything in life viz. good food, happiness and the enjoyment of this world, yet our lives are a big 'Zero'. God ensures that His children's lives will not be like those in the worldly ways, they will never have to face disgrace. When we turn back on our lives and see all His wondrous works, His blessings and the fruits thereof, we will have the heart to glorify and thank God for everything. Thus God will never give us an opportunity to be disgraced. It is very important for us to know that our God is gracious, slow to anger and can redeem us of every sin. He can shower us with anything and everything we ask for. All He wants from us is that we love Him with our whole heart, mind and soul. When we love the Lord the most in this world, we will never have any expectations from anyone else in this world. When we bow down to our Lord God with this love in our hearts, it is at that time He will lift us up. When we take a decision that nothing in this world is more important than the love of God, it is at that time His grace is showered upon us. But many a times, when we search for happiness and love in the worldly way, it is then that we lose God's grace, kindness and mercy in our lives. Hence, we must ensure to praise God as much as we can, rectify our lives by hearing the Word of God because in the coming days it is His grace, kindness and mercy alone that will give us the strength to withstand the world. The Lord says "Not by might, nor by power, but by my spirit". Yes, we can overcome this world when we love the people of this world less than God. The people of this world can cheat us, ditch us and ruin our lives. But when we love God the most, He will set a table for us before our enemies as said in Psalms 23. And we will happily dine with our Lord God holding our head up and in honour of God alone.
We know in David's life too, he had to face a lot of disgrace. David was nothing as compared to Goliath in his appearance and otherwise. David could not stand before God on his very own being. But, because David loved the Lord completely and in Him alone did he put his trust, the Lord God enabled him to stand before Goliath. God did not let David be disgraced or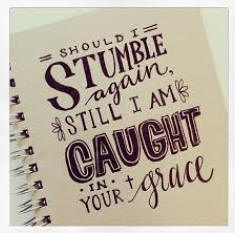 ashamed before Goliath. God gave him victory over the mighty warrior Goliath. David was like a mouse before Goliath, while Goliath was like an elephant before David. In any way, David was a complete mismatch for Goliath in stature and strength. But David was a disciple of God and truly trusted in Him completely; therefore God gave victory to David. Even in our lives, we face many huge mountains before us many a time; we face situations that bring disgrace upon us. We are completely broken and shattered. It is then, when we fall at the feet of God that we receive back our peace. We are the kind of people who forget God's grace very soon. Unlike us, David through all his trials and tribulations, his loneliness, pain and sorrows, only loved God. Thus, God never let David be disgraced or ashamed in any way. David with his experience says in Psalms 22:4 Our fathers trusted in thee: they trusted, and thou didst deliver them. David's testimony is that his forefathers had put their faith in God and God helped them out of every situation. It is with this faith and belief that David went before Goliath to fight him. Thus God did not let David down and gave him victory over Goliath. We must have the same belief and faith as David; we must also remember that God has never forsaken those who put their trust in Him. In our life too, when we put our faith and belief in God we shall never be shattered and pained, we will never have to drop our head before the world. Rather, we will walk with our heads held high and be victorious in all that we do. We will never be the tail but the head!
Let us also see the life of King Hezekiah in the bible 2 Kings 18: 5 He trusted in the LORD God of Israel; so that after him was none like him among all the kings of Judah, nor any that were before him. King Hezekiah believed God and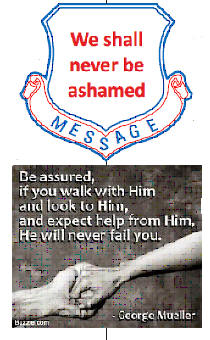 put his trust in Him alone. Here in the above verse we see how God testifies for King Hezekiah, saying that there was, is and will never be any King as King Hezekiah whose faith and trust was ultimate in God. But we must remember in spite of such a faith, King Hezekiah also was put through testing times, When the enemy came in the form of King of Assyria, who sent chariots and armies to fight against the tribe of Judah and to destroy them. King Hezekiah did not fear the King of Assyria. Why? Because King Hezekiah's faith and trust was in God alone. He did not have to face disgrace and shame, because he loved the Lord with his whole heart, mind and soul. Let us read Isaiah 37:36 Then the angel of the LORD went forth, and smote in the camp of the Assyrians a hundred and fourscore and five thousand: and when they arose early in the morning, behold, they were all dead corpses. Lord did not let King Hezekiah be disgraced and shamed. His love for the Lord God did not let him down. He would have cried out to the Lord "Why have the enemies surrounded us for destruction? Lord you fight this battle for us and give us victory". After this prayer, King Hezekiah would have slept in peace. The next morning we see the destruction that God brought upon his enemies. God sent his angel at night to destroy the enemies as we have read in the Word. Even in our lives, if ever we have to face our enemies in this manner, we must think where we have gone wrong, we must cry out to the Lord God and once again put our faith and trust in God alone. Once again the Lord God will lift us up and give us victory by defeating our enemy. Let us make a decision today to change our lives for the better. Let us decide to love our Lord God more than we love anyone in this world and make Him our first love. Let us decide to follow God diligently with all our heart, mind and soul. Thus we will be able to see God's mighty works in our lives too.
Remember the robber on the Cross, who within a minute, his life was transformed from hell to heaven when he accepted his sins and surrendered himself into Jesus' hands. The one who was surely going to hell, in a second when he asked for forgiveness, Jesus replied to him "today you will be with me in Paradise". God does not delay our blessings nor will He force us into loving and trusting Him. He only knocks at the door, as the Word in Revelation says "If you have ear, hear what the Spirit says to the churches". When the Holy Spirit speaks in the church to its congregation,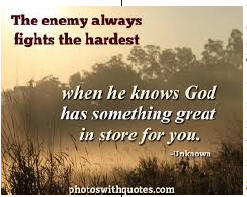 people must accept the Word. The congregation must live their life in obedience and accordance to the Word. This is the secret of being a victorious congregation. We must as a congregation be a great testimony to the gentiles. God says to us "My people, whom I love, will never be disgraced or be put to shame," hence when we are being disgraced and put to shame, we must think as to why we are facing disgrace and being ashamed in this world? Those who have believed in God and put their faith and trust in Him have always been victorious and their lives have become a testimony for others. Though we are true believers, we too will have trials and tribulations in our life. But if we love the Lord God with our heart, mind and soul we will never have to face disgrace, we will have victory in our life. When we read the Word of God, we see how thousands of righteous men and God's loyal believers have always won victories in their life and have never been disgraced, just as we have read about the lives of David and King Hezekiah. At the same time, if we believe in horses and chariots and when we believe the people of this world, we will surely be defeated. Let us read Psalms 20:7-8 Some trust in chariots, and some in horses: but we will remember the name of the LORD our God. They are brought down and fallen: but we are risen, and stand upright. Those who love the Lord God will never be ashamed and disgraced. We should never put our faith and trust in the people of this world. Rather, we should be holy and pure before God. As the Word says "The pure in heart will see the Lord". Who can purify our thoughts, mind and heart? None of the people of this world can purify our lives; it is only God who can purify our lives. The more we go near to Lord God, the more we will love Him and His Word and
will be purified through Him. Thus we must always strive to stay in God's shadow and love.
Let us read Psalms 119:6 Then shall I not be ashamed, when I have respect unto all thy commandments. When we obey God's commandments we will never be ashamed. We know the story in the scriptures about a young man who came running to Jesus and claimed that he had kept every commandment from childhood till this day and asked what he must do to inherit the Kingdom of God. When Jesus asked him to sell all his property and follow him, the young man was disappointed because he had much wealth. Here we see that the young man did not love God enough that he could sell all his property for the Lord and follow Him. Disappointedly he returned home. As Jesus said in the parable: It is easier for a camel to go through the eye of the needle than for a rich man to enter the kingdom of God. It is important for us to understand this parable. When we hear the Word and try to follow it, but do not live by the commandments, we do not receive the grace of God. It is His grace alone that can redeem us of our sins. God knows our disgrace and shame because when He was in this world He faced the same. Thus, when we go before God with our shame and sorrow, He can perfectly understand it and He will be prepared to redeem us. Hebrews 2:18 For in that he himself hath suffered being tempted, he is able to succour them that are tempted. In truth when we go before God with our disgrace and shame, He can understand it perfectly, for He too faced the same. He knows of the shame that we face when we have forsaken this world and loved Him above all else. Thus God helps His children to be victorious whatever the situation in our life and He is able to deliver us out of any situation. In the scriptures, we know that a lady from Canaan had come to Jesus and cried out to Him to heal her daughter. Matthew 15:22 And, behold, a woman of Canaan came out of the same coasts, and cried unto him, saying, Have mercy on me, O Lord, thou Son of David; my daughter is grievously vexed with a devil. She cried out "Oh son of David, my daughter is possessed, have mercy upon her." Here Jesus tests her faith…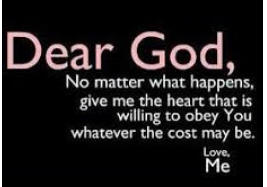 let us also read vs 23 But he answered her not a word. And his disciples came and besought him, saying, Send her away; for she crieth after us. Jesus does not bother about her cries and continues to ignore it. In vs 25-26 Then came she and worshipped him, saying, Lord, help me. But he answered and said, It is not meet to take the children's bread, and to cast it to dogs. Seeing her faith, Jesus said "Ask what you want, it shall be given". This faith is not only for the people of this world, but also for those whose faith is in God. These are also tests for the faithful of God. Though Jesus insults this woman, this insult is only to test her faith in God. God can bring storm on the sea and also sink the boat. God can also bring shame upon a Prophet and prepare a fish to rescue the prophet. In order to teach us a lesson,
God can do anything; no one can question the Lord God. But we must remember, every faith is tested at some time or the other.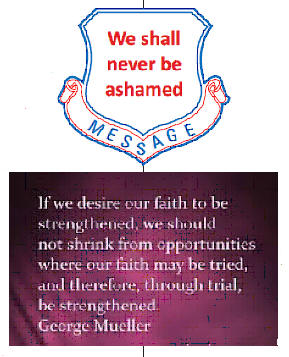 How God will test us, we will never know; but if we love the Lord God we will obey anything He says and asks us to do. Thus the Grace of God will rest upon us. This very example is also mentioned in the books of Mark, Luke and John too. Many a time God brings such testing in our lives; we always come running to God with great zest and love, but when we are tested, it is important that we stand the test of God in our lives. Many of us fail most of time, unlike this Canaanite woman who was persistent in her faith in spite of the insults Jesus brings upon her. God will bless us according to our works in life. If we want God's blessing, we must be victorious in every trial brought upon us by God.
Let us read Hebrews 13:8 Jesus Christ the same yesterday, and today, and forever. God is the same yesterday, today and forever. We are the ones who need to change; we must get purer and purer with His love. We are the ones who change, our God is unchanging. The same God who commanded Peter to walk on the water is commanding us even today, but we must hear His voice. It may be a whisper and may get lost in the loud sounds of this world. As long as Peter looked at Jesus he was never wavered by the sound of the roaring sea, but when he looked at the sea its sound overpowered Jesus' voice and he started drowning. Similarly, even today in our lives we must carefully hear the whisper of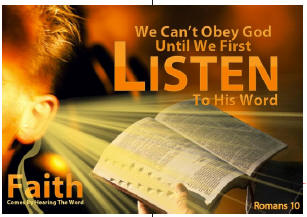 God rather than the loud sounds of this world that takes us away from God. Let us be determined to change our life, only then we may receive the love of God. Psalm 60:11 says Give us help from trouble: for vain is the help of man. Lord help us in times of trouble, the help from this world is useless and worthless. Luke 10:19 says Behold, I give unto you power to tread on serpents and scorpions, and over all the power of the enemy: and nothing shall by any means hurt you. Those who trust in God can trample over snakes and scorpions. Nothing can disgrace us if we first believe and have faith in God. It is God who can bless us and give us this authority when we love Him. Many a time when we pray for prayer requests, we do not receive an answer for our prayer soon, even though we cry out profusely for this request. When God does not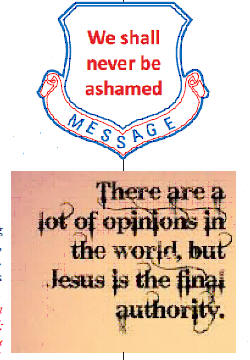 answer, we realize that God knows much more of the person we are praying for God knows the truth, hence there is a delay. Daniel's prayer also was delayed by the evil one for 21 days, Daniel 10: 12-13 Then said he unto me, Fear not, Daniel: for from the first day that thou didst set thine heart to understand, and to chasten thyself before thy God, thy words were heard, and I am come for thy words. But the prince of the kingdom of Persia withstood me one and twenty days: but, lo, Michael, one of the chief princes, came to help me; and I remained there with the kings of Persia. God sent Michael the Archangel to break this jinx with the evil. Thus we must be righteous if we want God to hear our prayers. When we love the Lord God with all our heart, mind and soul, God will surely hear and answer our prayers. We must have the zest and zeal to serve the Lord. The evil can stop our prayers from reaching God, when we are sinful and unrighteous. But as God spoke through His prophets Isaiah and Joel, even today He says to us My people will never have to be disgraced and ashamed because like I sent Michael Angel to fight with the evil, today I will send my Holy Spirit to fight the evil. Thus, our prayers will be heard and answered by God. This is God's promise for us when we love Him foremost in our life.
Let us thus love the Lord with our whole heart, mind and soul and we will not be disgraced and ashamed. In conclusion, Let us read Job 25:2 Dominion and fear are with him, he maketh peace in his high places.
God has dominion and authority over us. God is making peace for us because our belief and faith is in Him and thus we shall never be disgraced and ashamed. Our God is no ordinary God; no evil can disgrace us because our God is a terrible God. It is God's love alone that can keep us in great peace and happiness.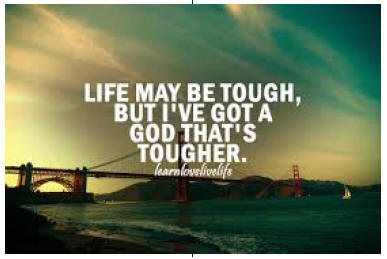 Right from the time of Moses where God's grace is abounding, the work of the evil one abounds as well.
We must remember that God's grace alone can give us victory in all things that we do. Let us vow before the Lord on this day, that nothing in this world can replace God's love to be the most supreme and foremost in our life. The Word of God is true and everlasting, hence let us be obedient and true to the Word of God in our life.
May this Word bring blessings in all the lives that read this Word. Praise the Lord!
Pastor Saroja M.
* * * * * * * * * * * * * * * * * * * * * * * * * * * * * * * * * * * * * * * * * * * * *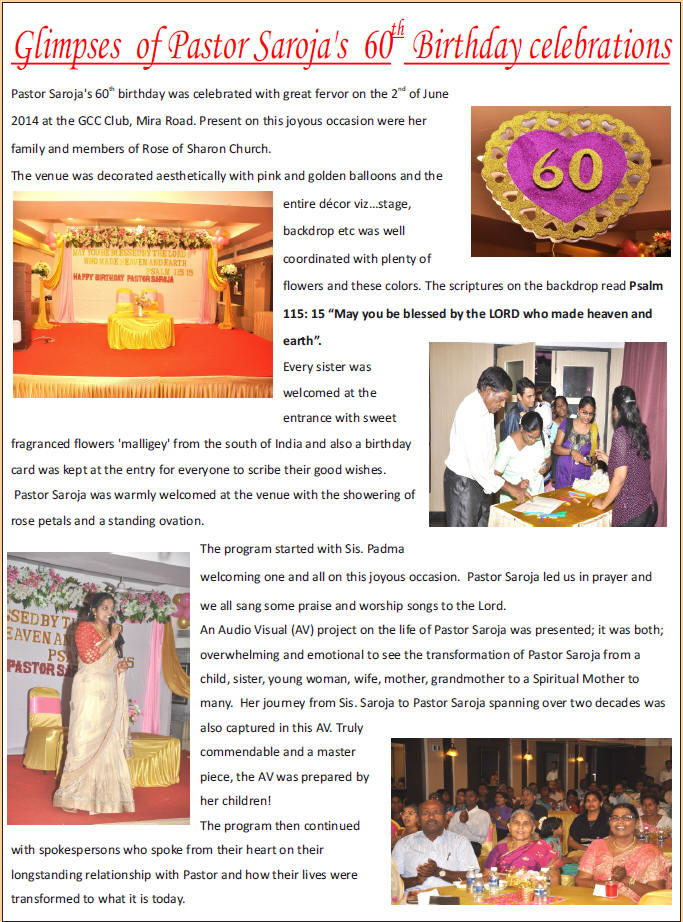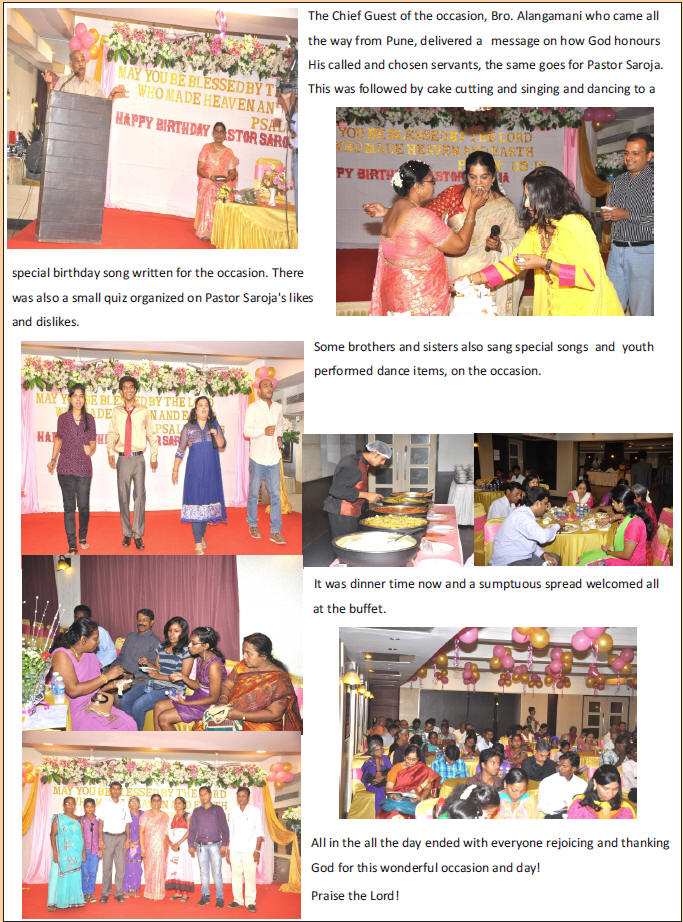 * * * * * * * * * * * * * * * * * * * * * * * * * * * * * * * * * * * * * * * * * * * * *
Rose of Sharon Old Age home
Greetings to all our dear readers in the most Holy and Matchless name of our Lord and Saviour Jesus of Nazareth. We at the home in Mira Road wish one and all a Happy Church Anniversary. The month of June has speedily gone by, even as we step into the new month, with a new edition of our monthly magazine. In this month's edition, let me introduce you to granny Eliza Gonsalves, aged 65 years and a resident of Santacruz.
<![if !vml]>
<![endif]>Granny Eliza was brought to the home by her daughter on 3rd May 2014. When she first came to the home, looking at her one would feel that she has no sickness at all and is completely healthy. The reason being, this granny is very chirpy and loves to talk and mingle around with everyone. She speaks fluently in English, Hindi, Marathi, Gujrathi, Kannada and Konkani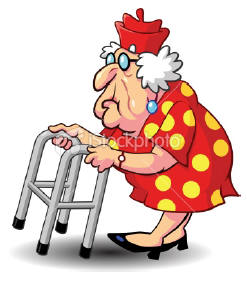 and can get along with most of the residents in the home. As days passed and after a few tests were done on her, we realized that she was suffering from various ailments. Be it abnormally high diabetes, to renal problem, blindness in the left eye, a broken knee, just to name a few. But despite of living with all these physical weaknesses, this granny has carried herself well and is not perturbed with these weaknesses and tries to live a very normal life within the home.
Eliza granny loves good food specially non-veg dishes, rice and potato's are her favorite, she has a big appetite too. When she was admitted to the home, she had diabetes in excess of 700 mg, but after constant care and medication, it had normalized, But having given her liberty on food, her recent diabetes reports revealed that her diabetes was again in excess of 500 mg. So now she is on a low-carb diet to control her diabetes with 25 units of insulin being given to her twice daily. By God's grace, we hope to bring her diabetes under control soon.
Granny was supposed to undergo an eye cataract op